Colorado Backcountry Discovery Route - Days 1 & 2
Corinne and I took a week off of work and headed into the mountains to take on the Colorado Backcountry Discovery Route. The ride is 650-or-so miles of dirt roads through the Colorado mountains, starting in Four Corners and ending North of Steamboat in Wyoming. The ride is geared towards the adventure riding crowd
10 August - Denver to Storm King Mountain
Bikes are so fresh and clean. Finally bought a tankbag in the hopes that I'd take more pictures.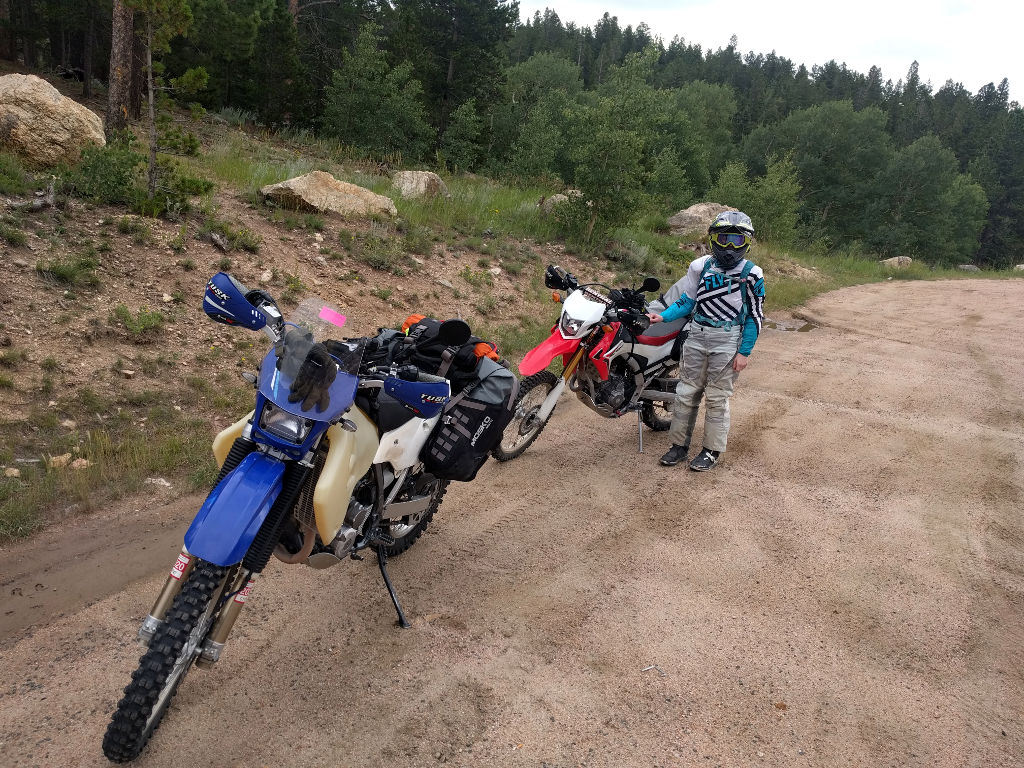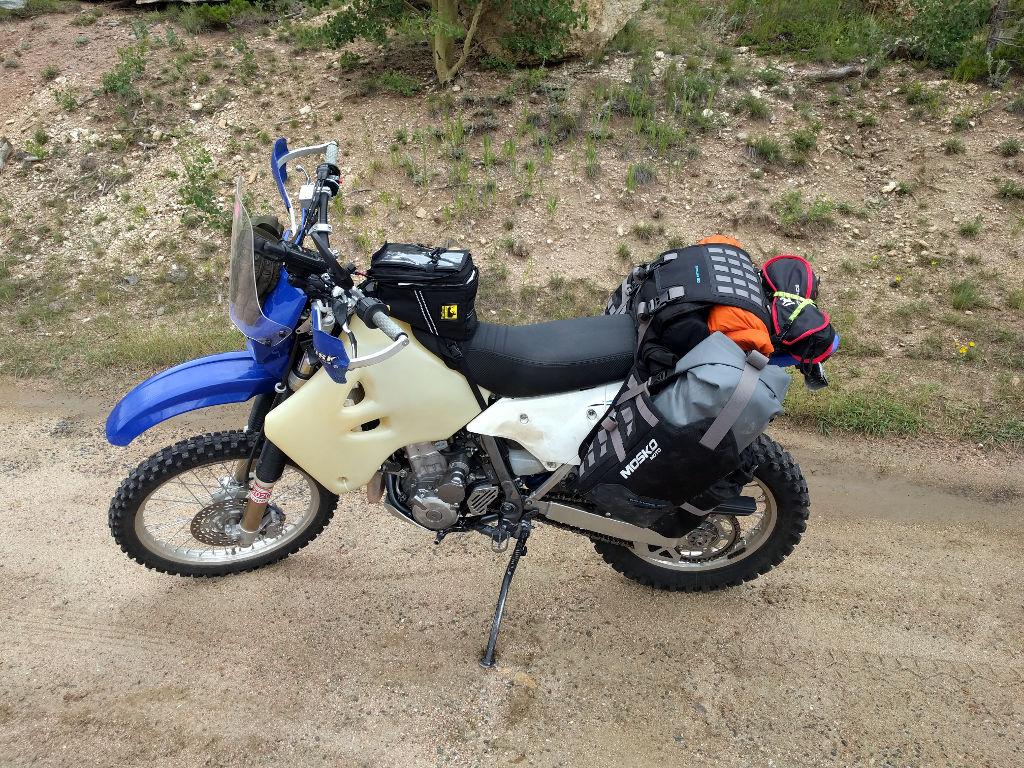 On FS road 211 in the burn area South of Deckers. The big rock in the background is Sheeprock.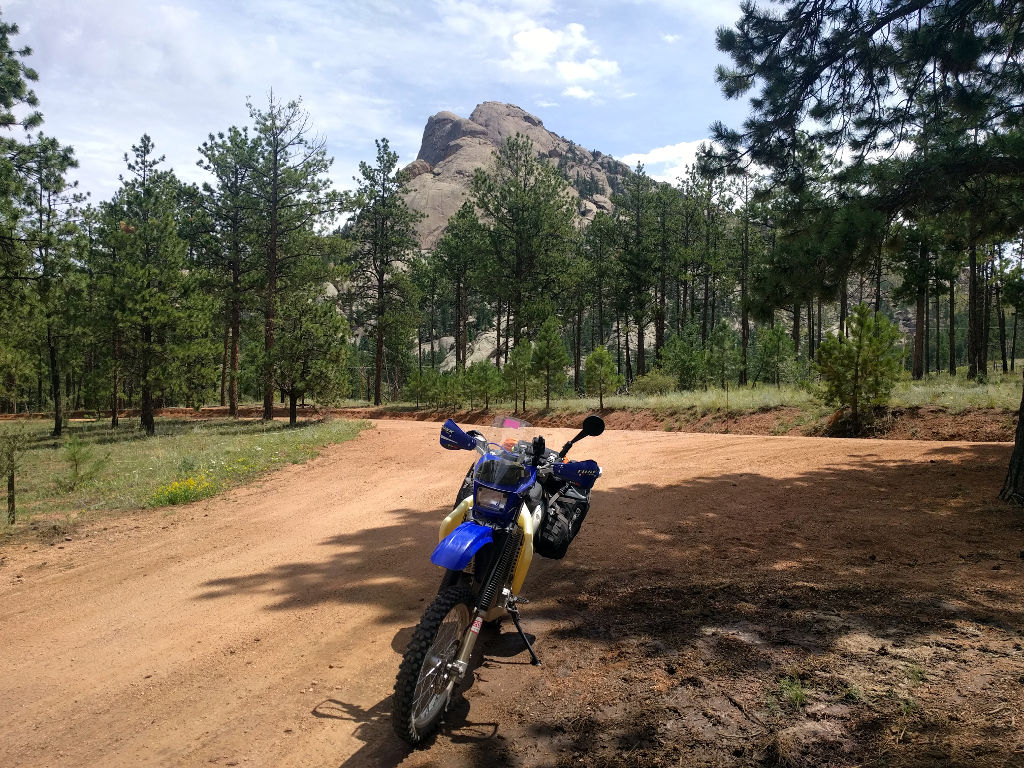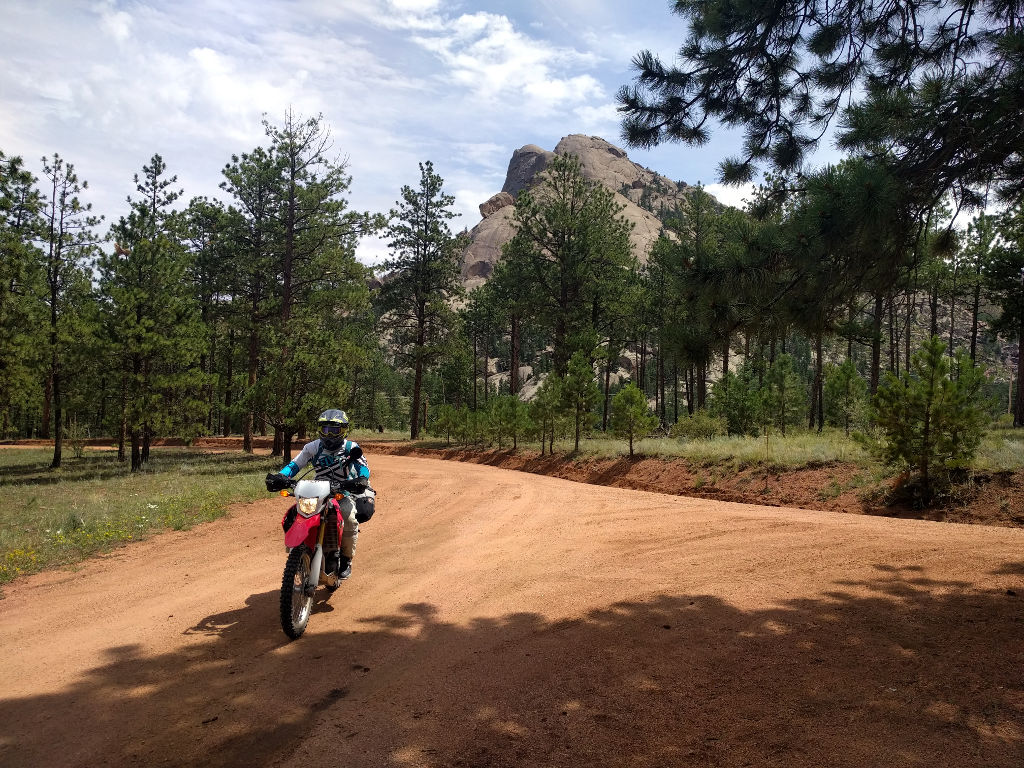 Shelf road from Cripple Creek to Canyon City.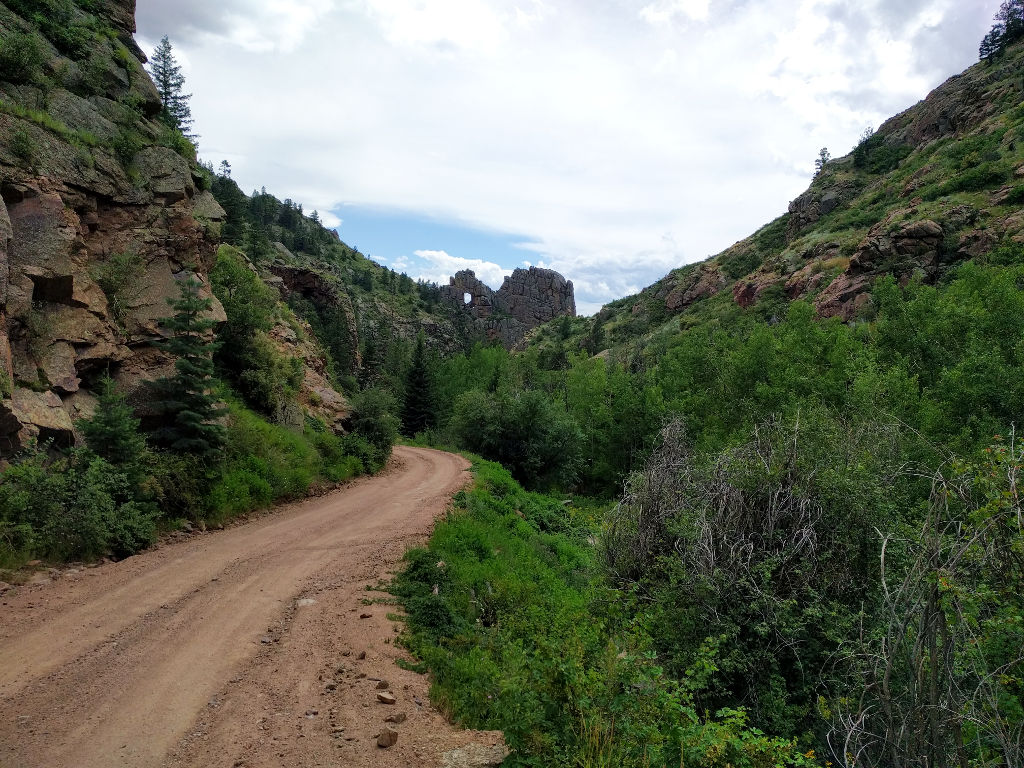 Earlier this year some dude yeeted his Africa Twin off the side of the road. From what I read, I think he made it out alright. But his bike burnt to a crisp at the bottom of the canyon and had to be cleaned up by a specialty recovery crew. They don't call it shelf road for nothing.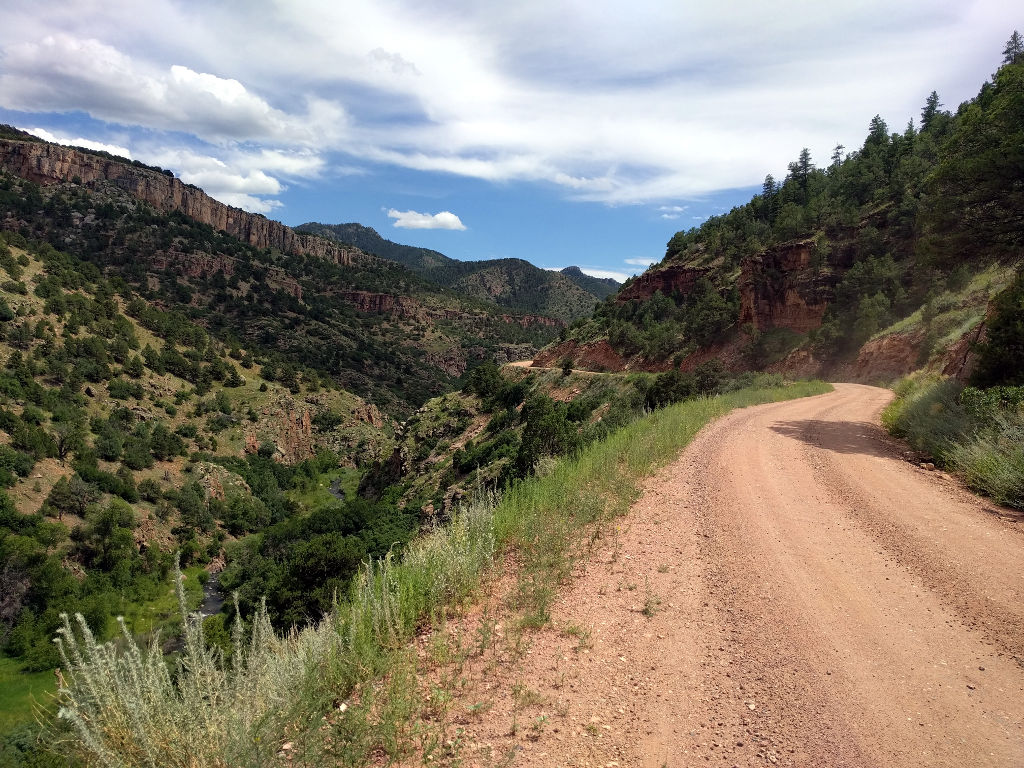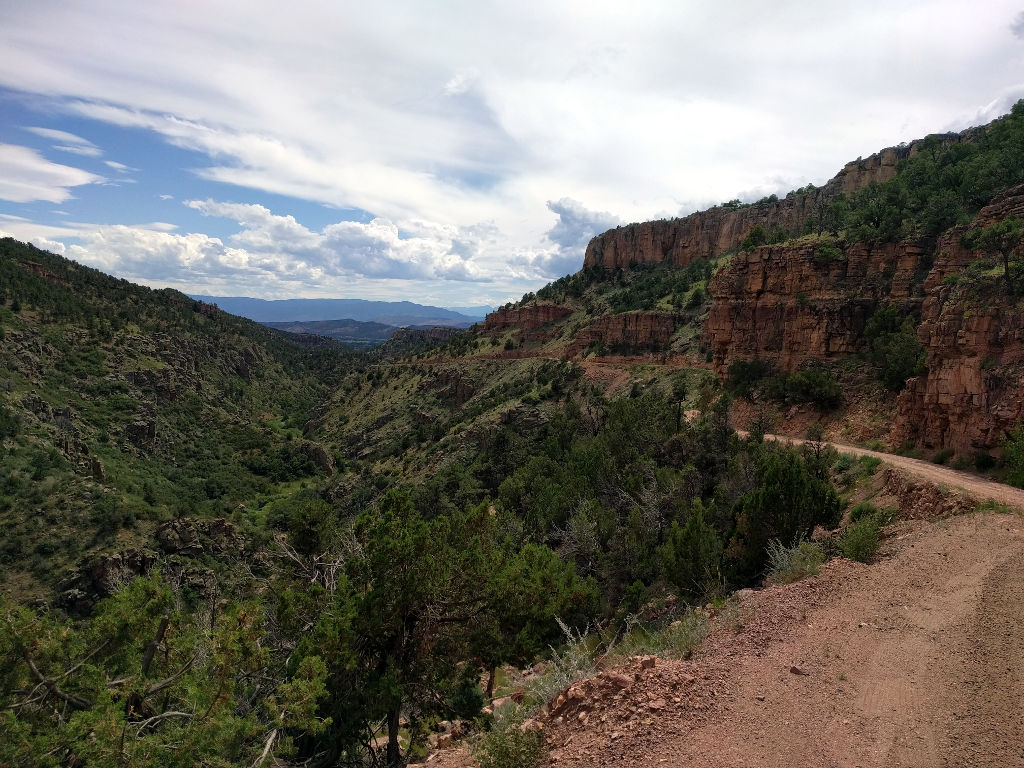 From Canyon City, we slabbed it to Saguache, where the skies started getting pretty dark. We decided it was probably time to find a campsite, so we headed toward Carnero pass in the national forest. Got a little bit of rain a long the way, but nothing to crazy… thus far.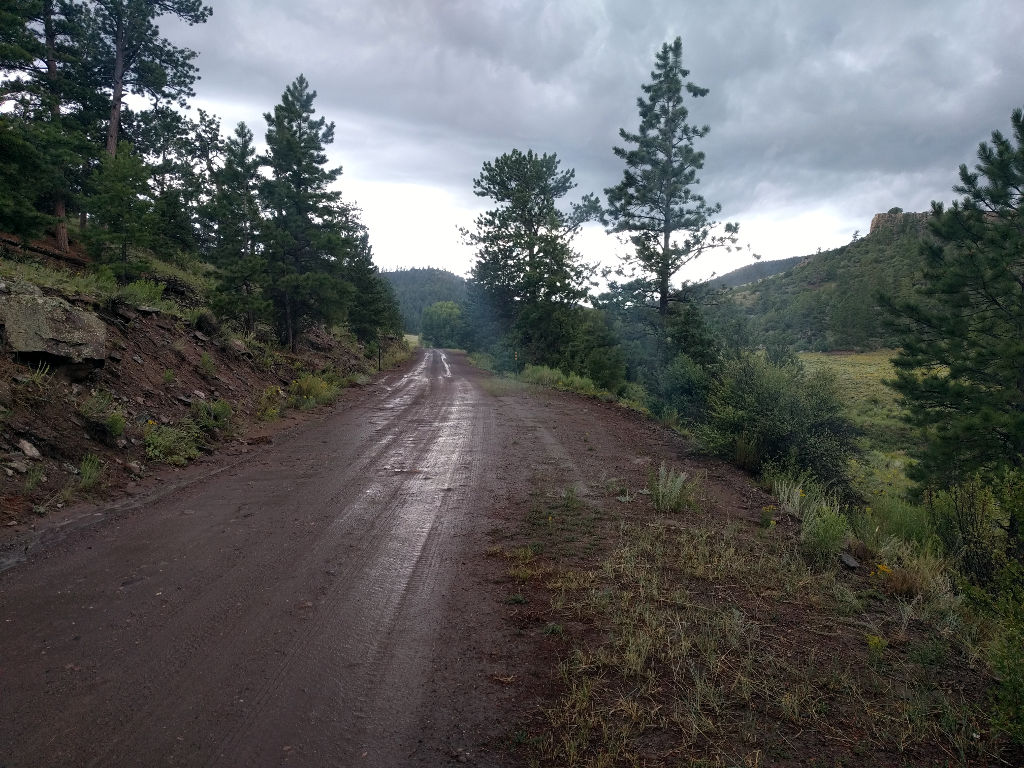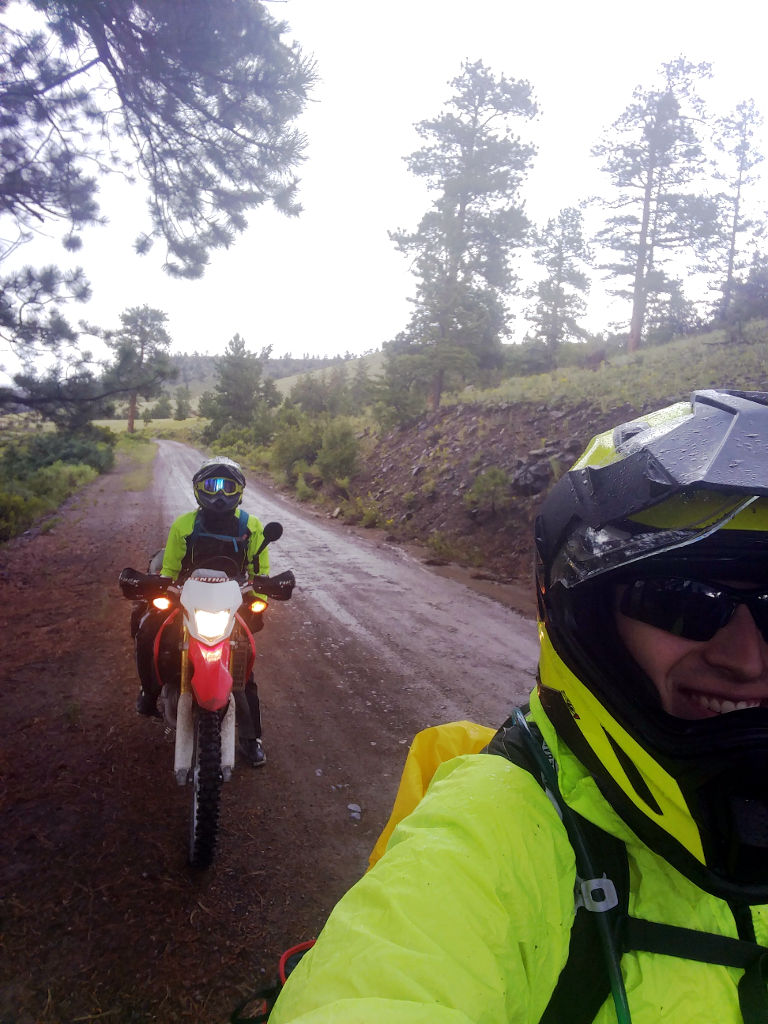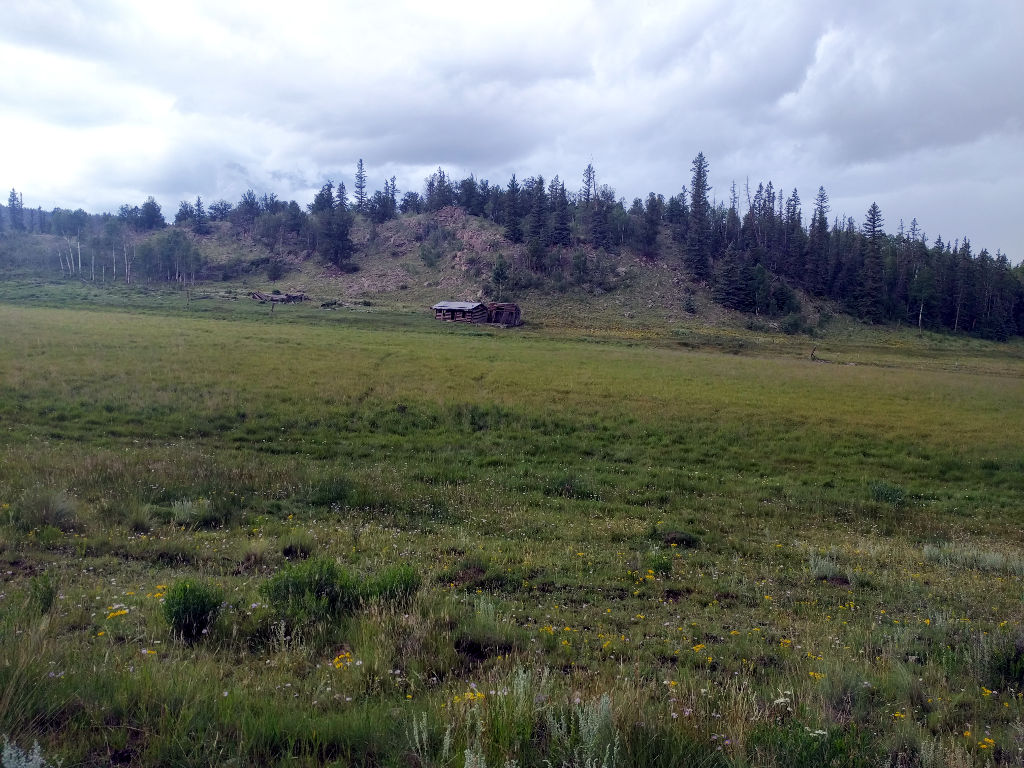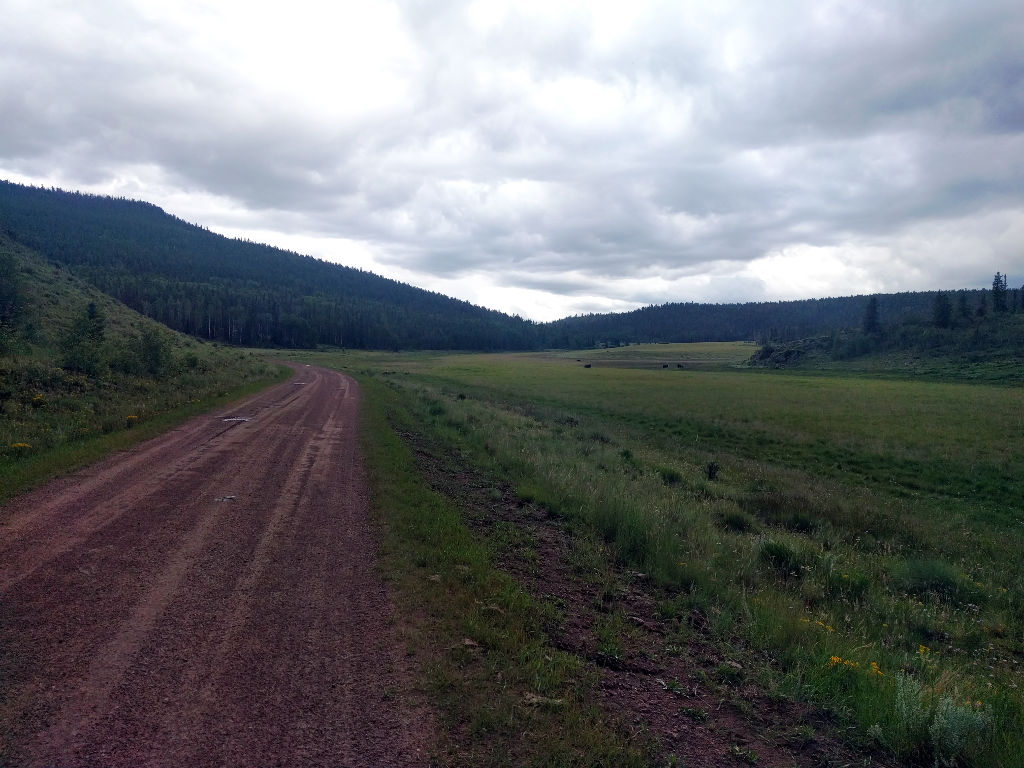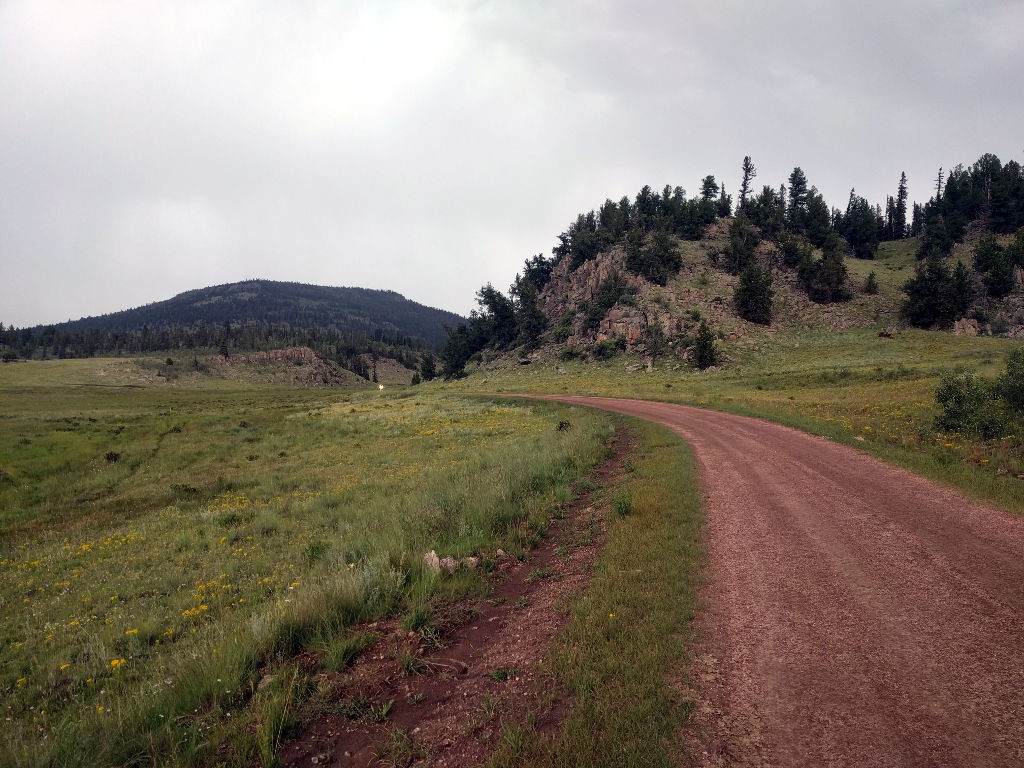 Oh yeah. Storm King Mountain. Sounds like a great place to camp, right?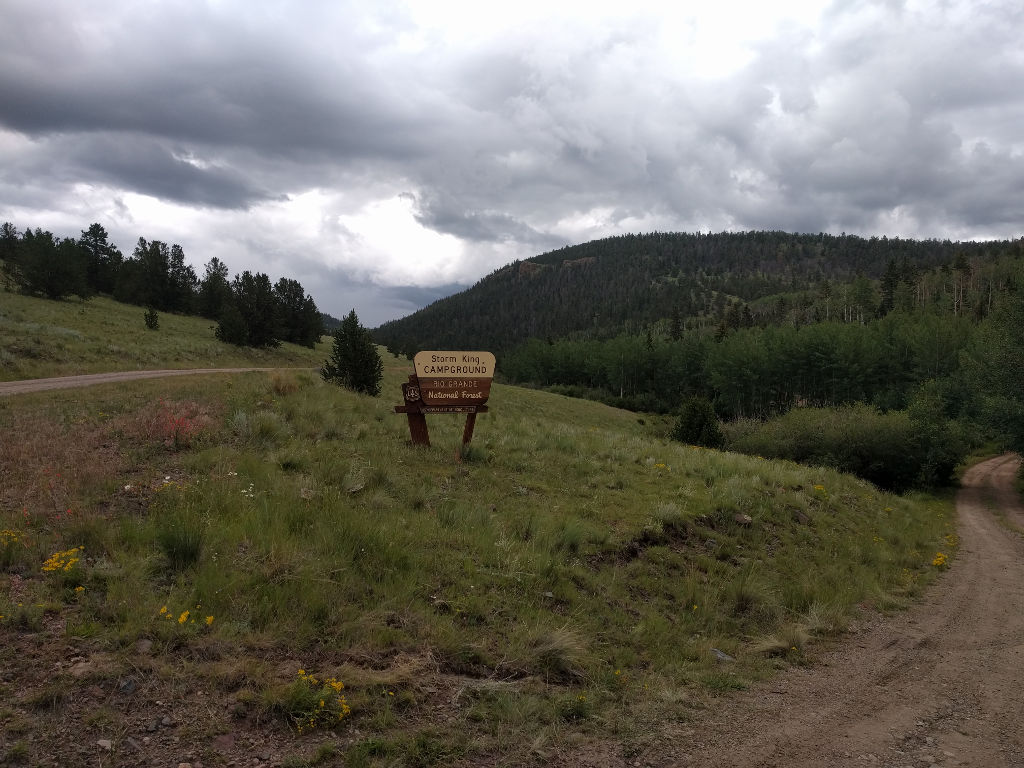 When we got there the rain had let up almost entirely. We were the only ones at the campsite, and someone had left a bit of firewood. The skies just a little dark, so we thought we were in the clear. I casually took off my rain gear to make setting up the tent less "swishy" while Corinne paid the $5 for the camp spot. It was setting up to be a relaxing night!
It started sprinkling again, so I started working on getting the tent set up. A minute later the thunder and lightning started and it began raining harder. So I rushed to get the rain fly over the unerected tent and threw my rain jacket back on. And it kept raining harder.
Corinne comes running back with her rain jacket over her head because it doesn't have a hood. We get the tent set up enough, roll up our dry backs and put rain covers on the rest of our bags, shed our wet rain gear and huddle up in the tent (with our muddy boots hanging out under the vestibules, 'cuz we're not savages).
It was about 1900 and we were already two hours past ready for dinner, so we figured we'd give it 15-30 minutes and let just wait until the storm blew over. About an hour later, with puddles surrounding the tent, we gave up hope and decided the storm wasn't gonna let up any time soon. So we ran out to the bikes, grabbed a couple Clif bars, and then beelined it back to the tent.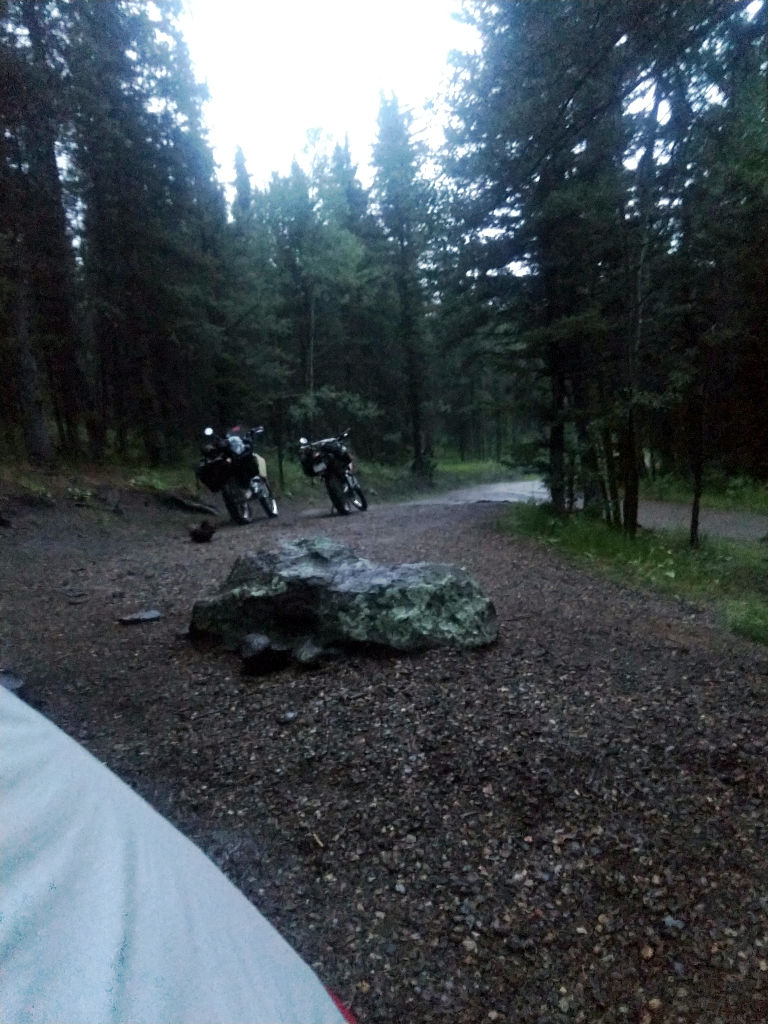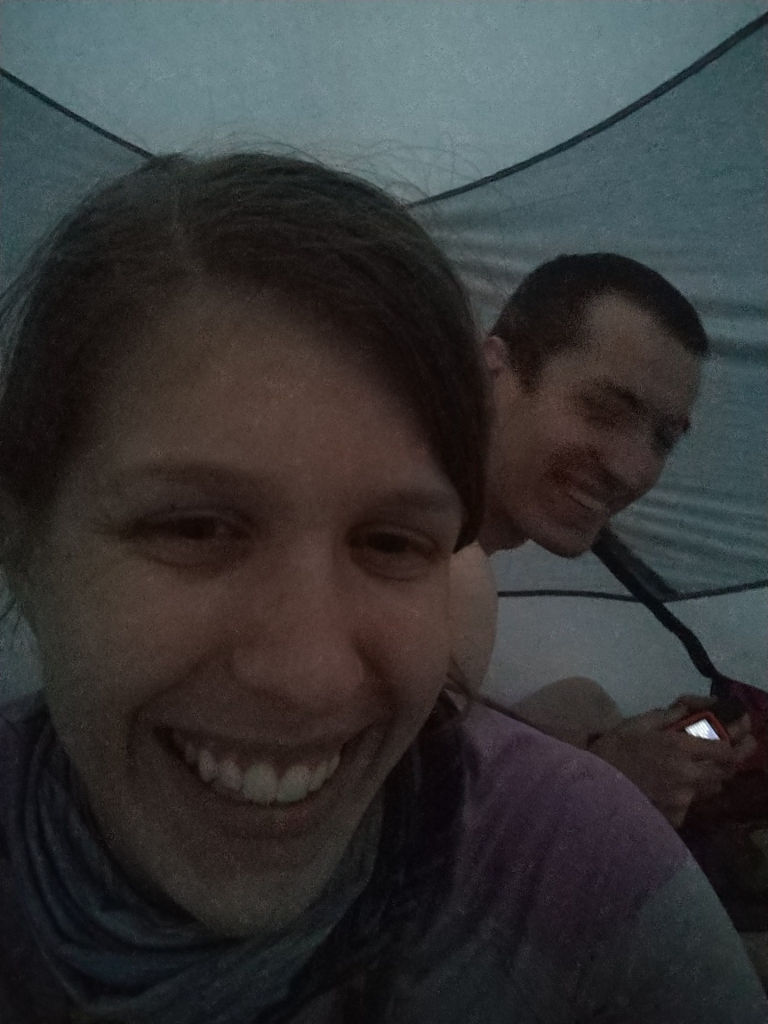 Maybe camping at the base of Storm King Mountain was a poor choice. Maybe. Once we got back in the tent with our Clif bars, we took our riding gear off and got in our sleeping bags. Before we left home both of us had downloaded some shows onto our phones. We were gonna have a relaxing first night of our vacation, rain or not.
11 August - Del Norte to Dolores
A bit after 900 the next day the skies started to clear up. 14 hours of rain is truly the only way to start a motocamping trip. Most of our gear is dry. The cheek pads of our helmets are basically big, soggy sponges, but it's not bad at all once they reach cheek temperature.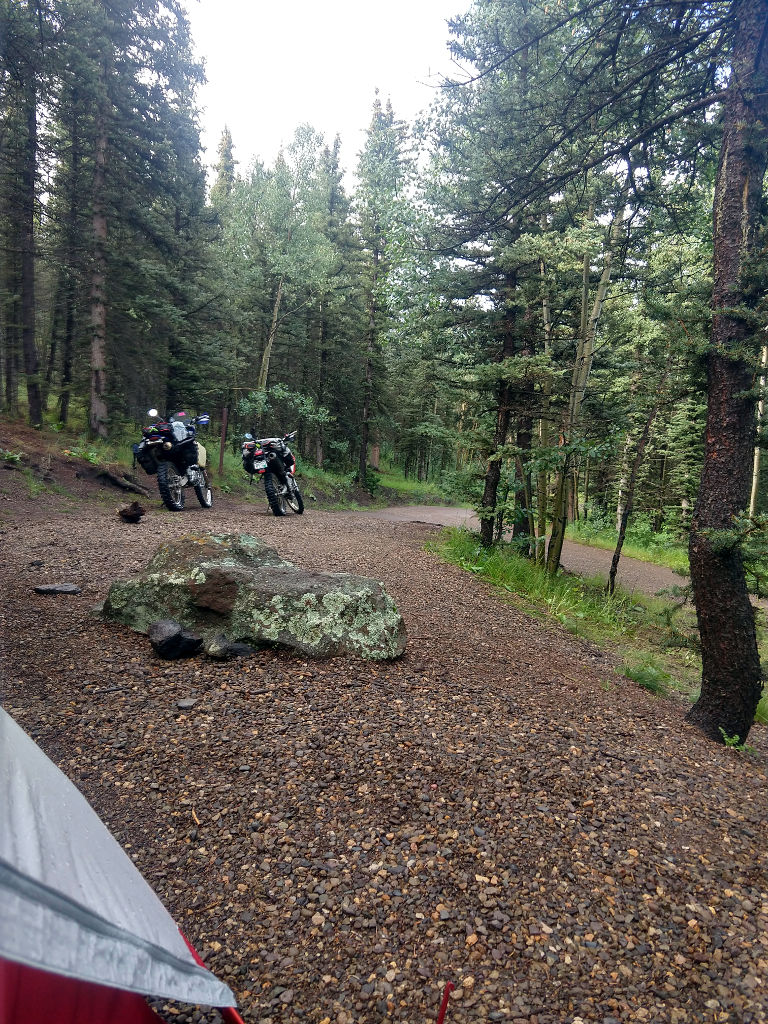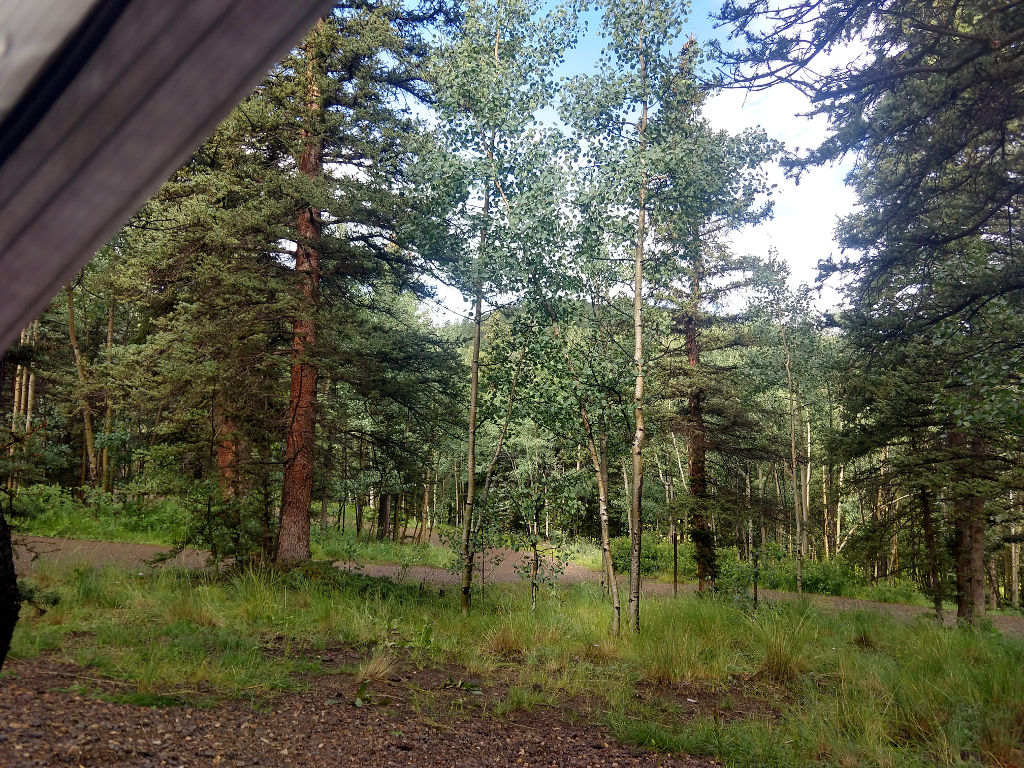 I think we skipped making oatmeal for breakfast and opted to instead ride to Del Norte and get some brunch. Corinne's such a sucker for brunch anyway.
On the way out of the national forest. These hogbacks were pretty cool. They looked like basalt columns or something.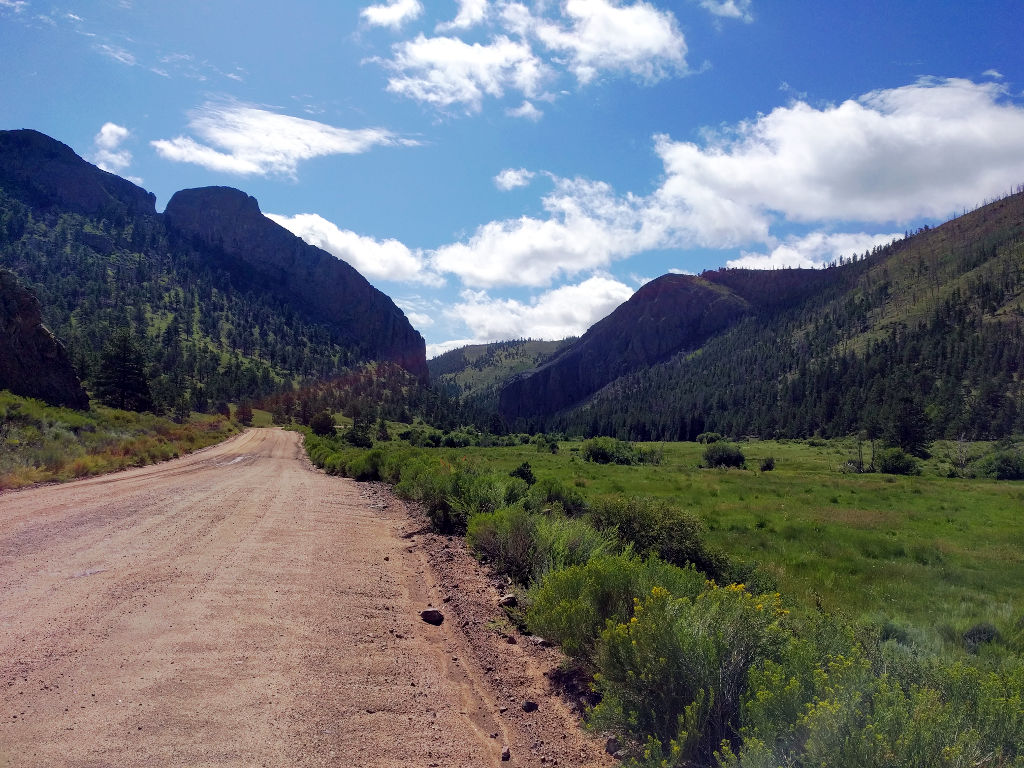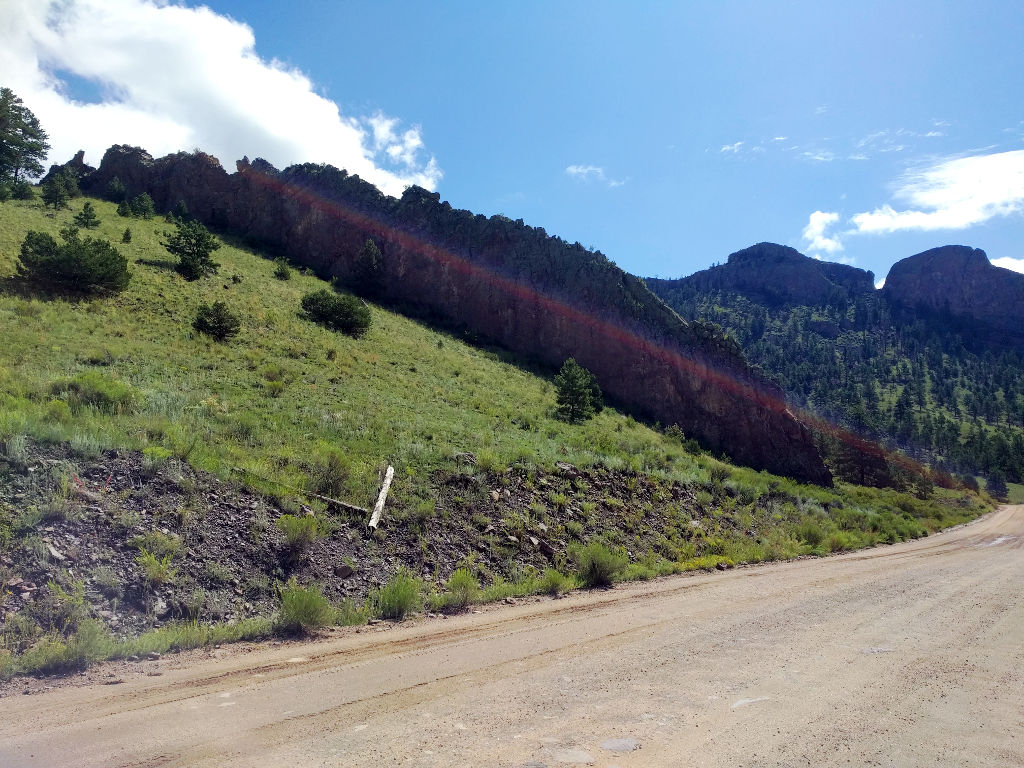 We grabbed some food at a cafe in Del Norte, checked the weather, and waited out another thunderstorm (only 30 minutes this time). It was still sprinkling a bit, but our goal was to get West of Durango and camp somewhere on the COBDR track, so we needed to boogie.
We donned our rain gear and headed up Wolf Creek pass toward Pagosa Springs. Unfortunately we dodged only one of the rainstorms in Del Norte; we got absolutely dumped on going over the pass. It was one of the most persistent storms I've ever ridden through, so it's understandable that neither of us wanted to stop to take pictures.
Once we got to Pagosa Springs we got gas and checked out how our rain gear fared. Though we were rather cold, we were actually pretty much dry. I think all of Corinne's rain gear worked well. Both our non-waterproof motocross boots seemed to be dry inside. My rain gloves (without gauntlet) were soaked and I could feel that my mesh armor jacket inside my rain gear had absorbed a bit of water. I'm not sure if the rain came up my jacket sleeves, or if the water came through the taped seam in the jacket sleeves.
It rained some more after Pagosa Springs, and Corinne and I chatted on the intercom about the possibility of getting a motel or something to let our gear (mainly the tent) dry out. The sun came out after Durango and we let evaporation and 60 mph winds do its thing. By the time we reached Dolores, the point at which we'd start the COBDR tracks, my armor jacket was dried out. The tent, my rain gloves, and our camp chairs were the only soggy things left. Pretty nice!
We stopped in Dolores for gas and bummed some water from a spigot on the side of the town hall. And then we started the COBDR proper.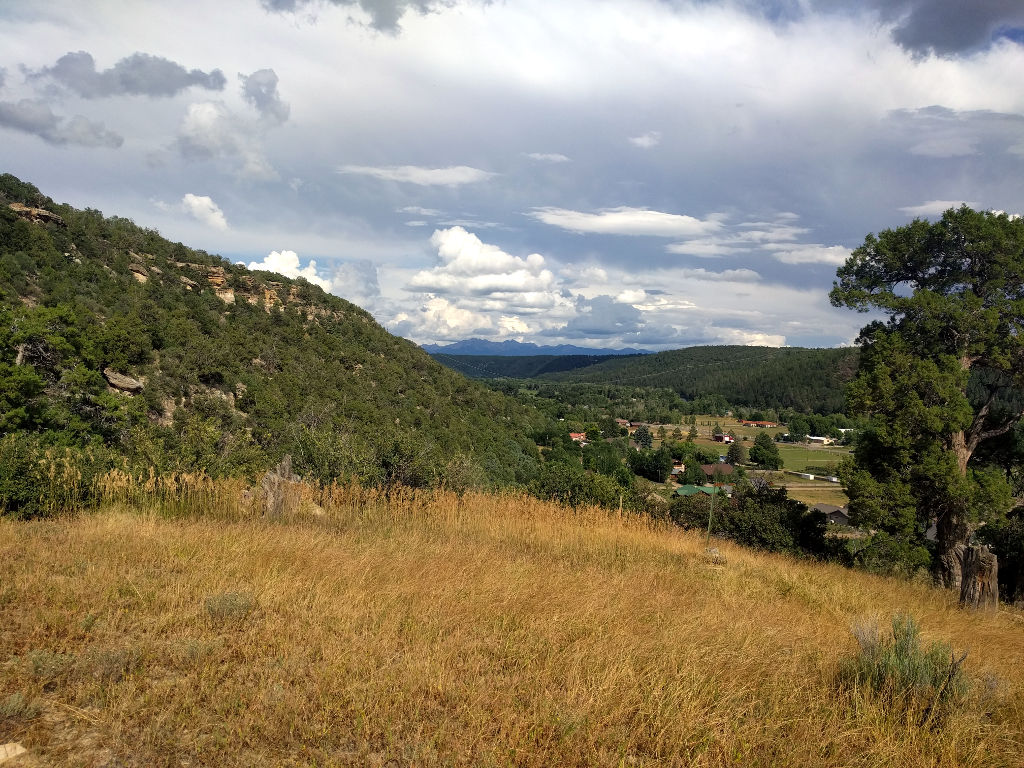 Little bit of jeep road/two track and then some fast gravel roads on the way to Groundhog reservoir, where we planned to grab a camp site.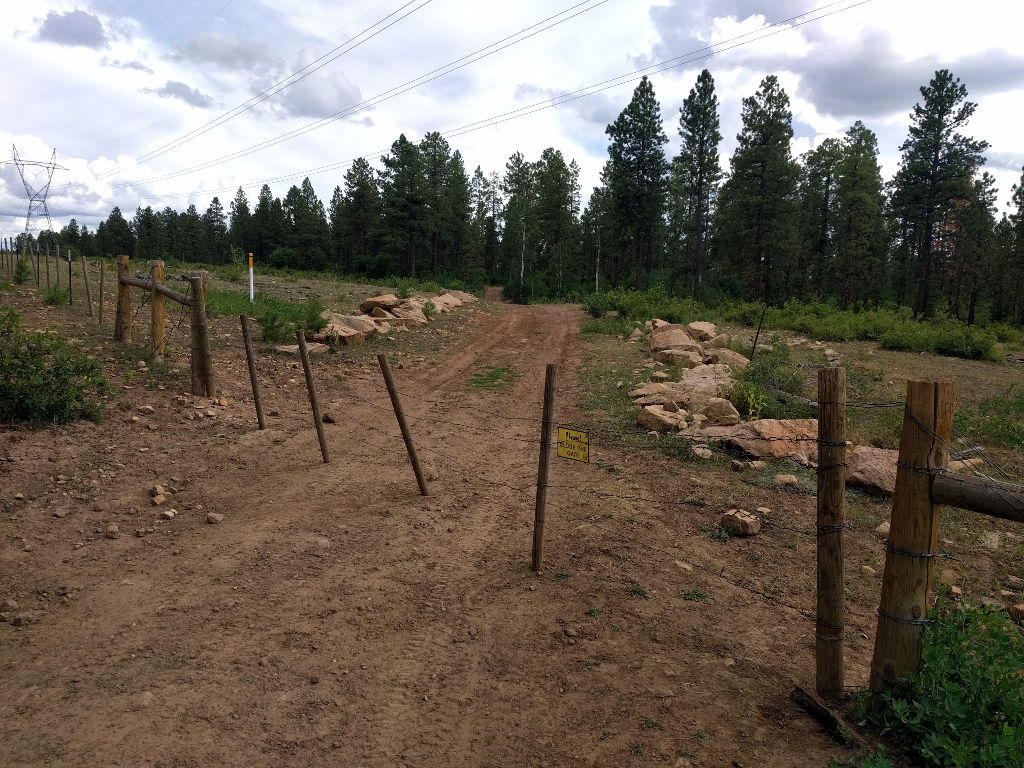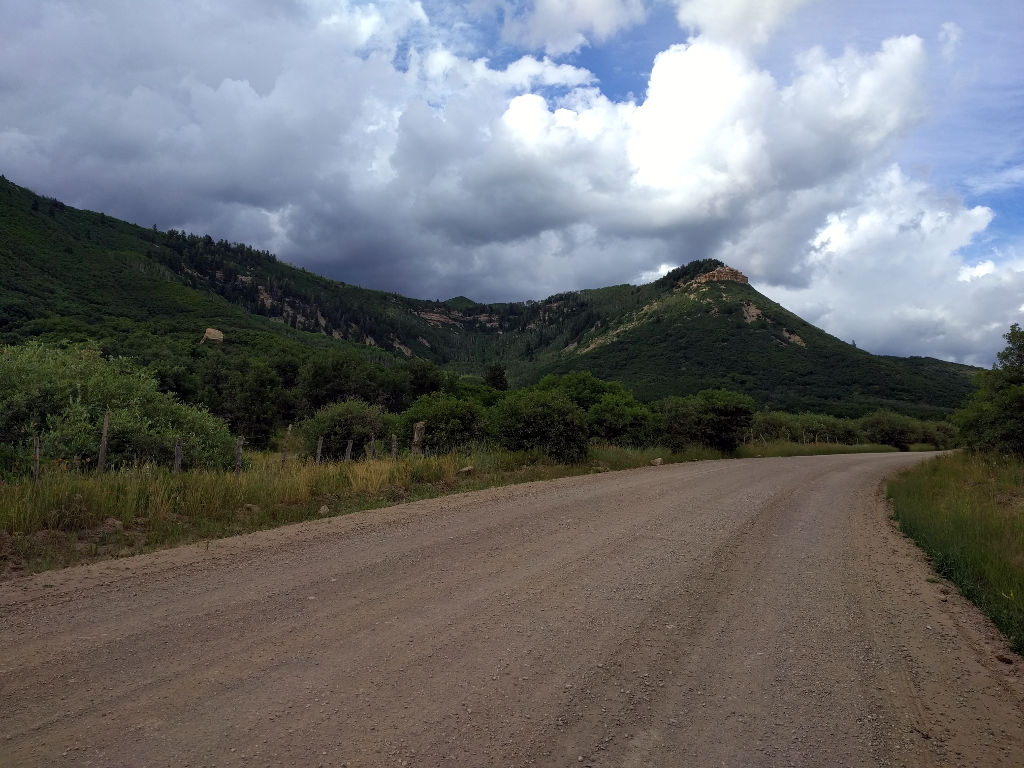 Although we were dried out enough and intended to camp, we ended up splurging on this hot little piece.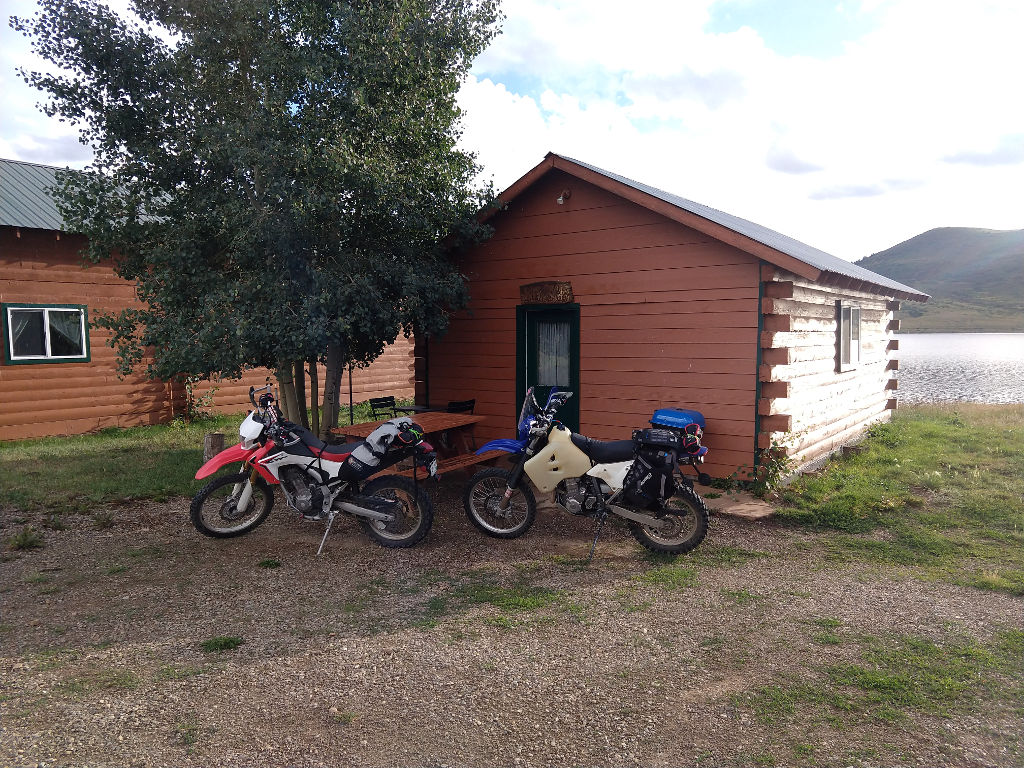 Plenty of room inside to let the tent and a few other things air dry. Totally worth the expense to have a good night's rest before riding through the San Juans the next day.