Colorado Backcountry Discovery Route - Day 3
12 August - Through the San Juans to Lake City
To get a head start on any potential afternoon thunderstorms, we started off from Groundhog Reservoir somewhat early. The first bit of the track was a continuation of the fast gravel roads from yesterday.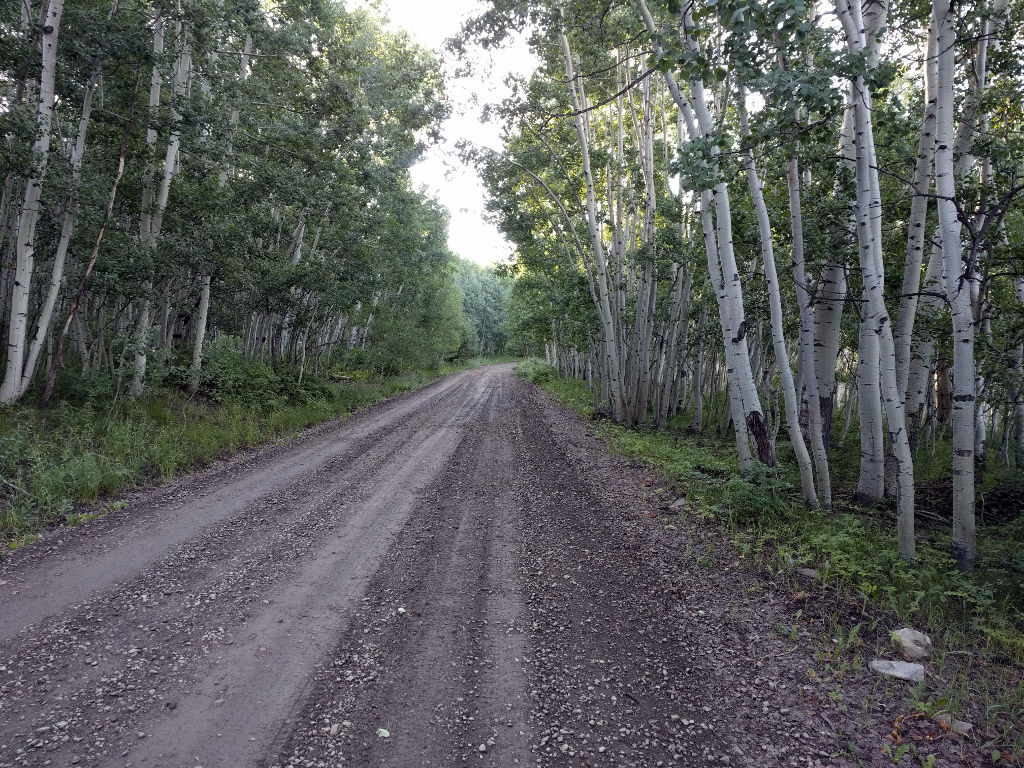 As the sun came up, the moisture from the quick rain storm we had the previous night evaporated off.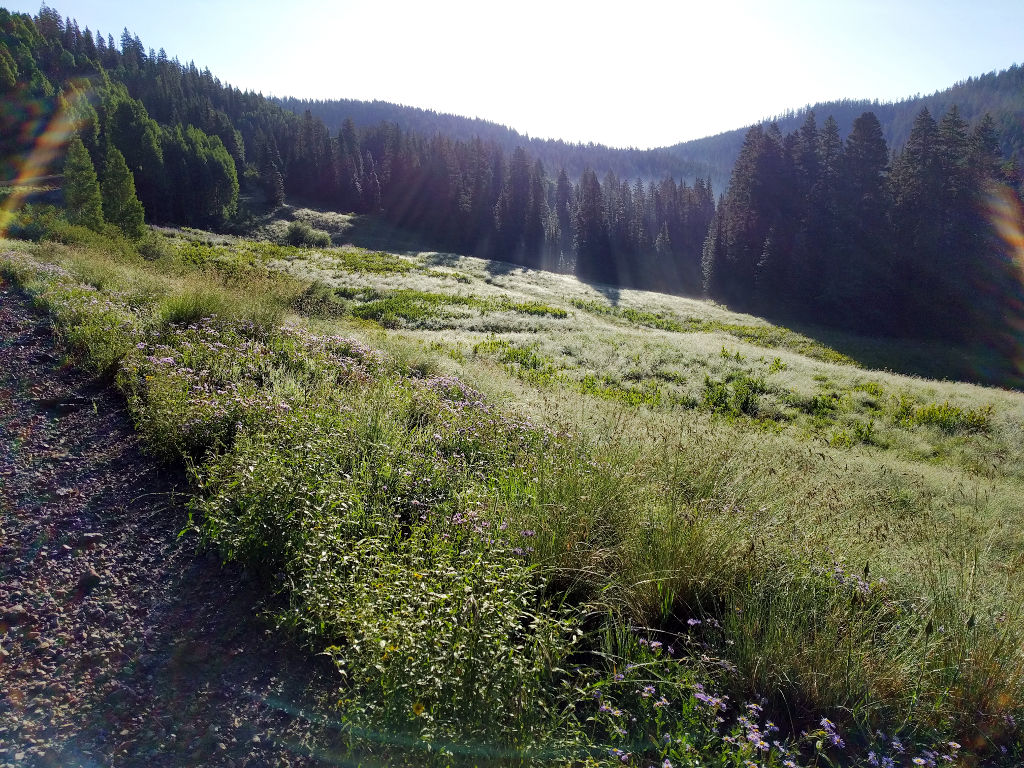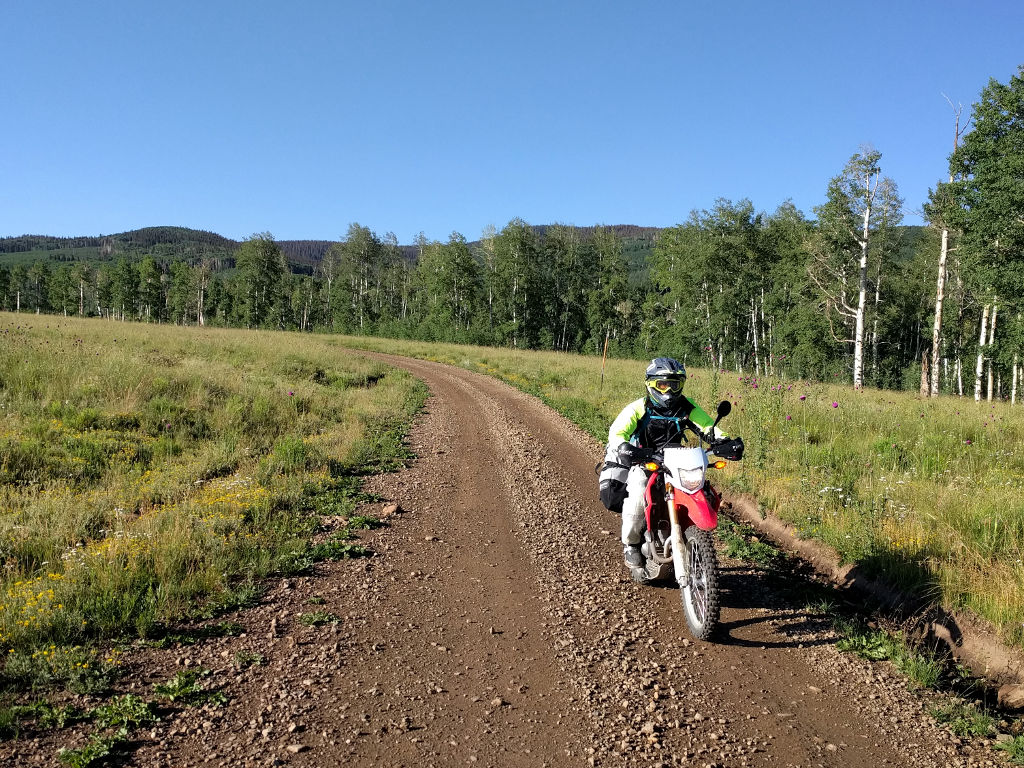 In the many shadow covered sections of road there was a bit of mud. Nothing like the Dino ride earlier this year, but enough to get your attention.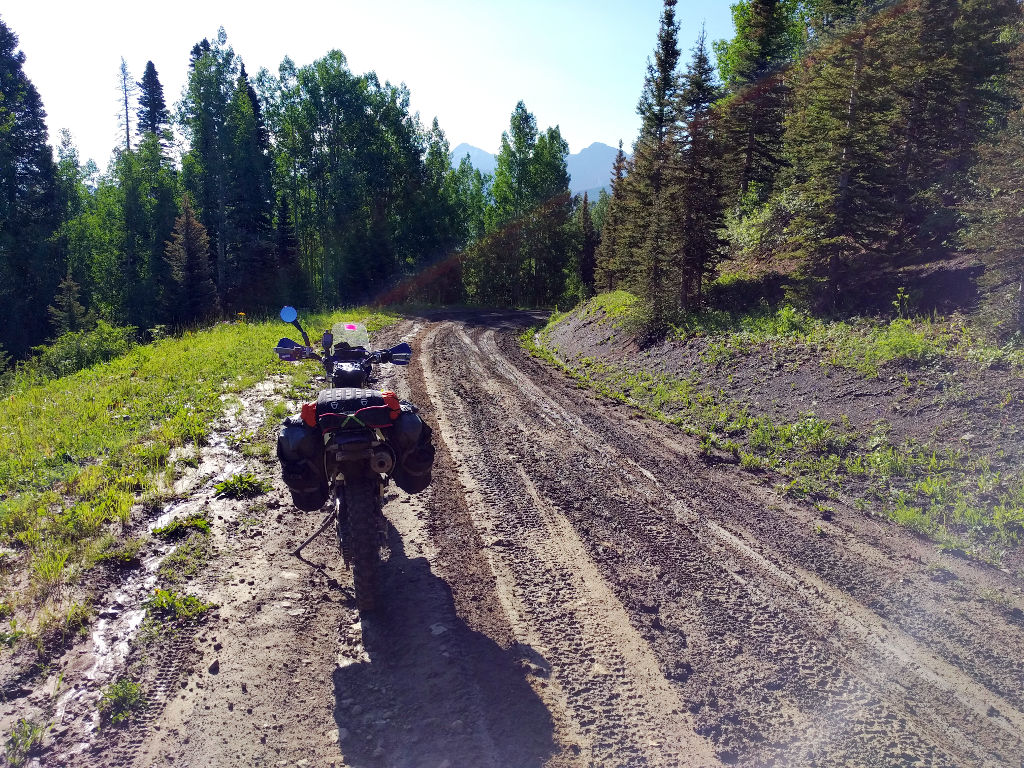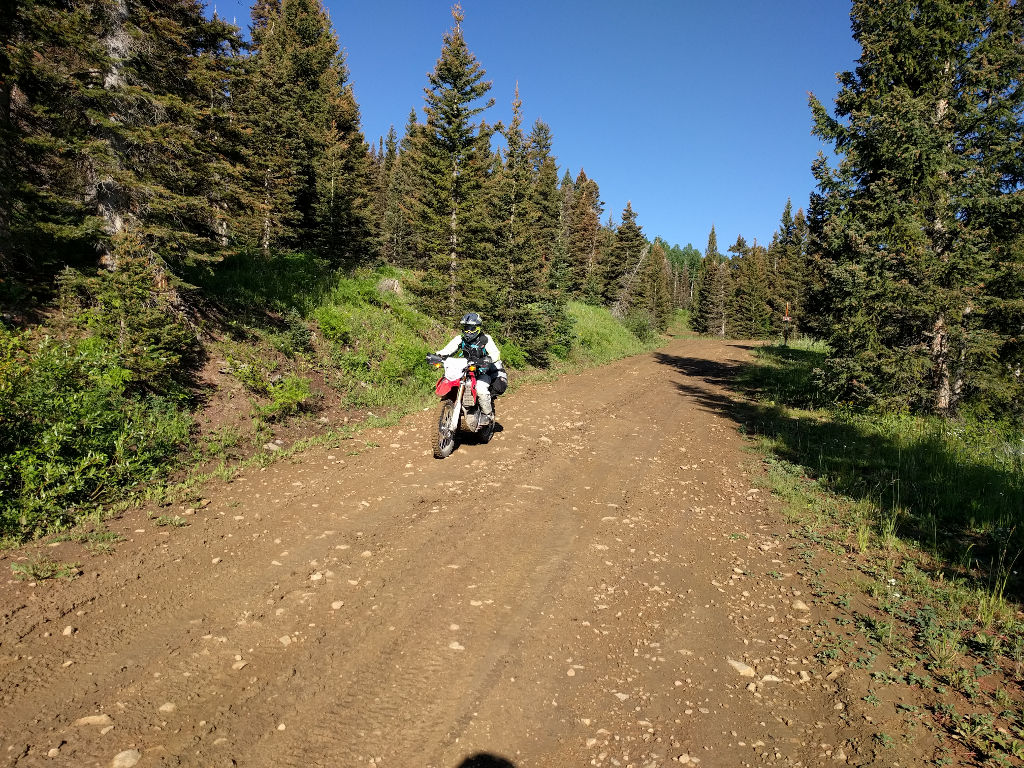 We took a quick pit stop in Telluride and had a snack by the river. We chatted for a few minutes with a few other riders at the gas station outside of town. And then we were off for the first proper pass of the trip: Ophir.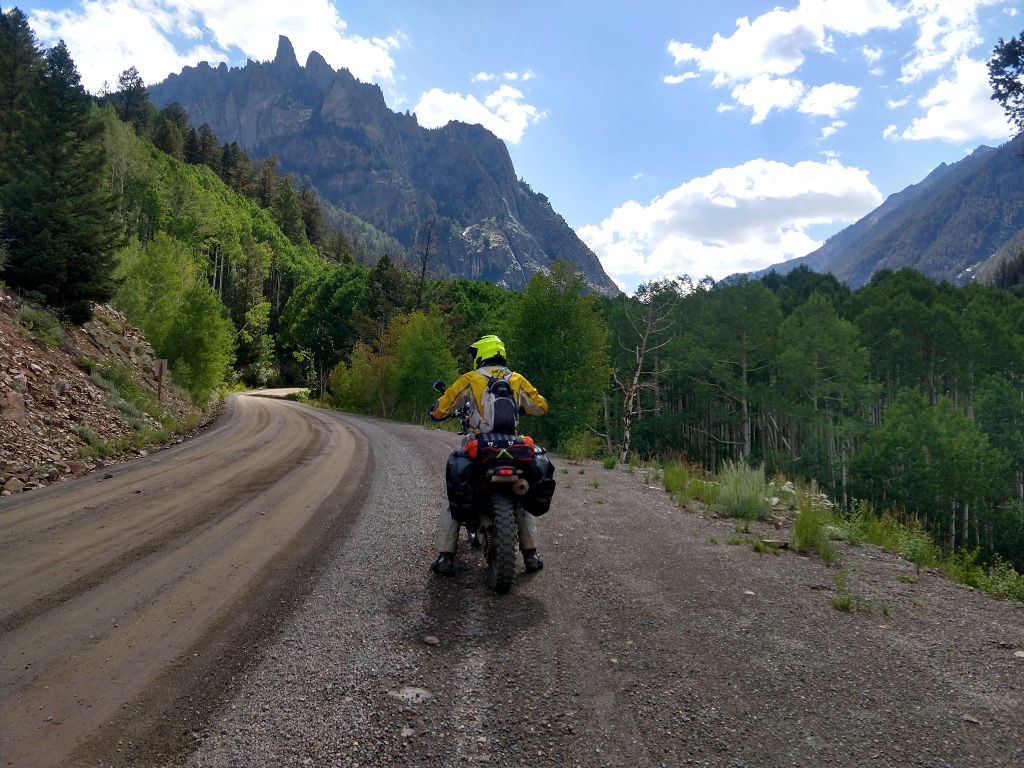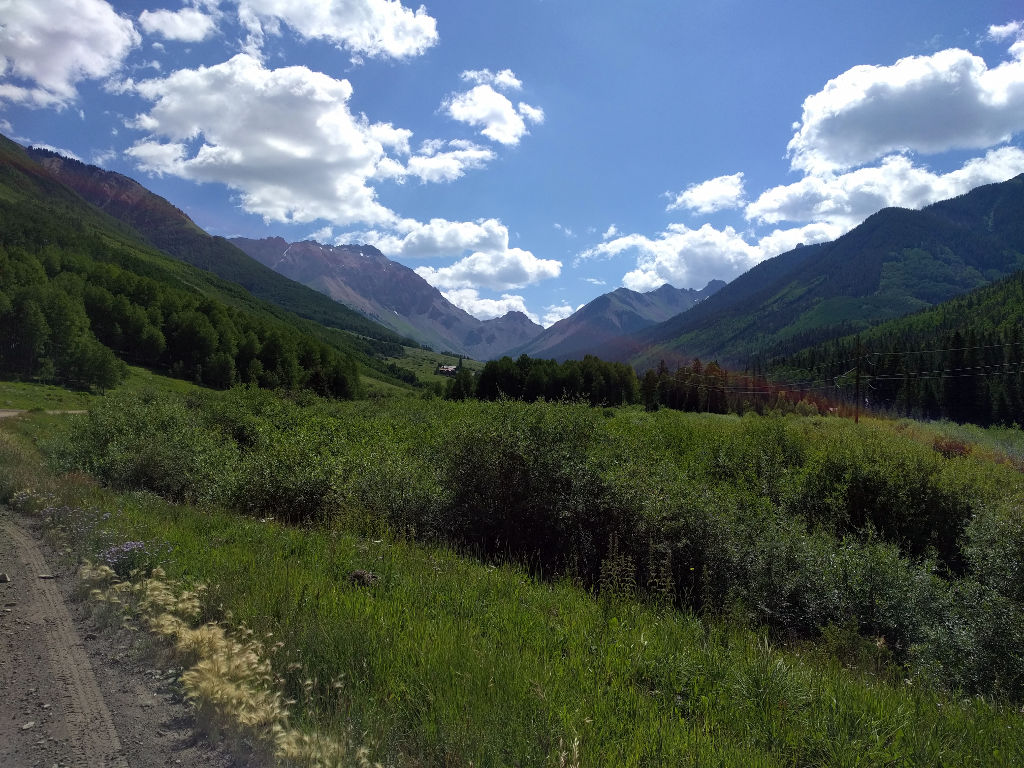 This was the first of probably 15 avalanche chutes that we would cross. Most of these trees were blown over; we saw some later that were snapped in half about ten feet up, which I still find a bit terrifying.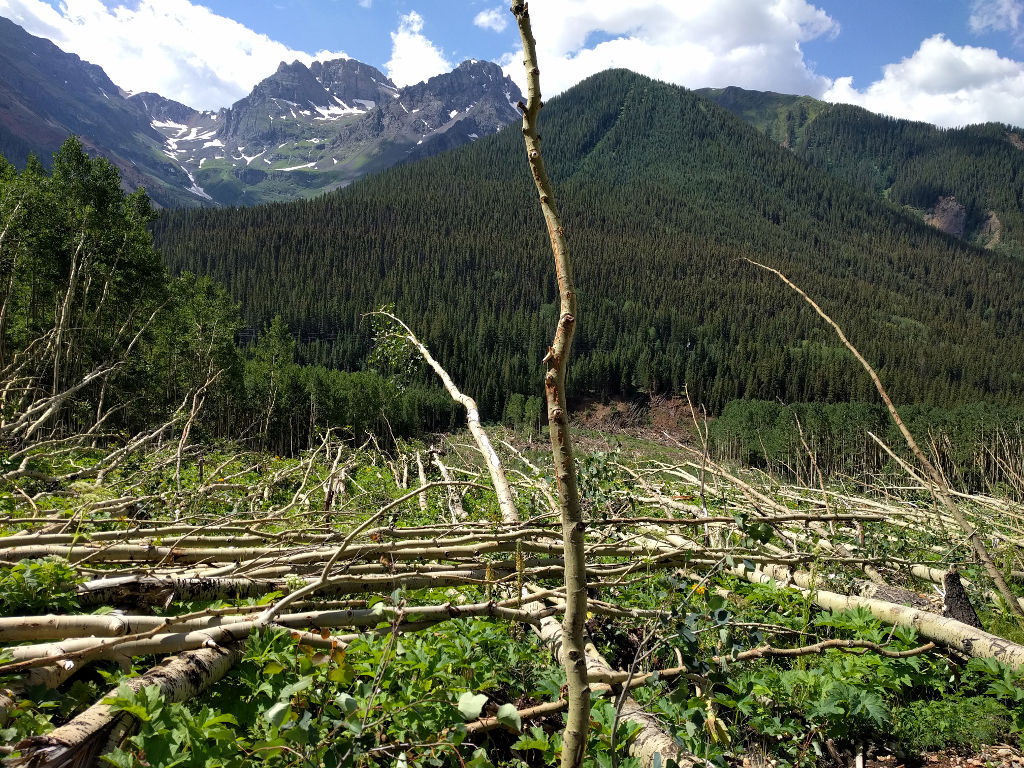 The tricky bit of Ophir is well known to be the section of a few hundred meters of scree. Usually the jeeps make two tracks that are packed down pretty well, so as long as you stick to those and keep your momentum you'll be fine. In 2018 there was a little bit of a slide that deposited some fresh rock on the road and folks were saying the additional loose rock was making the pass harder than years past. We waited for a couple jeeps to finish descending and then headed up. This is where riding a light bike pays dividends. We had no issues getting up the pass.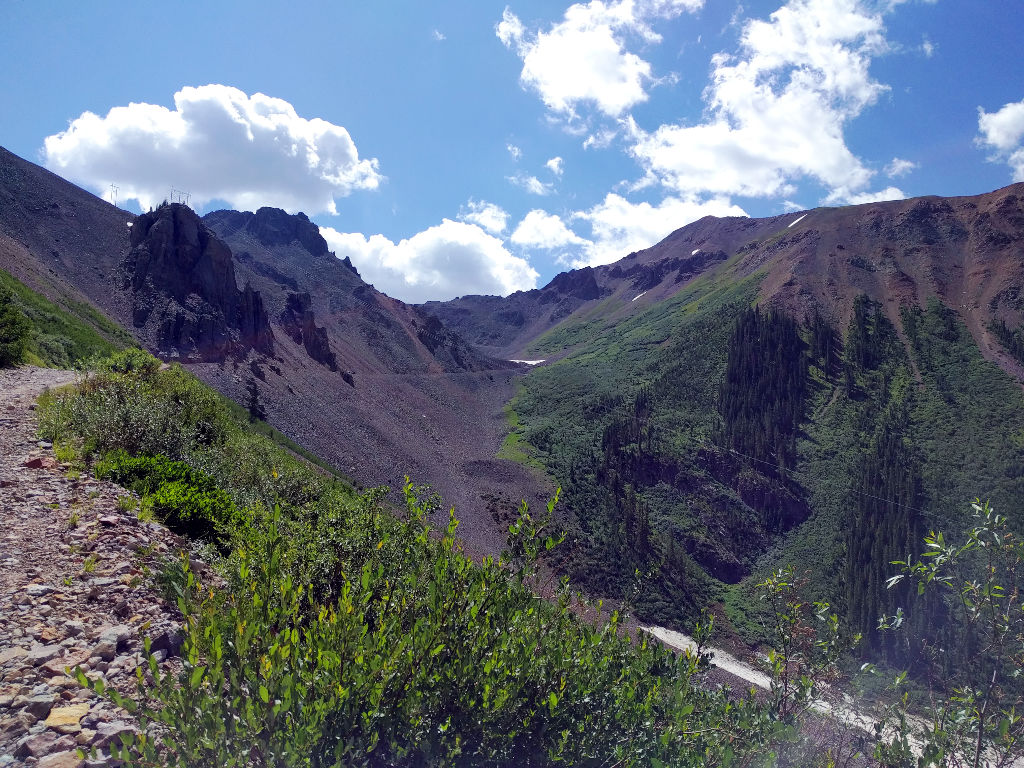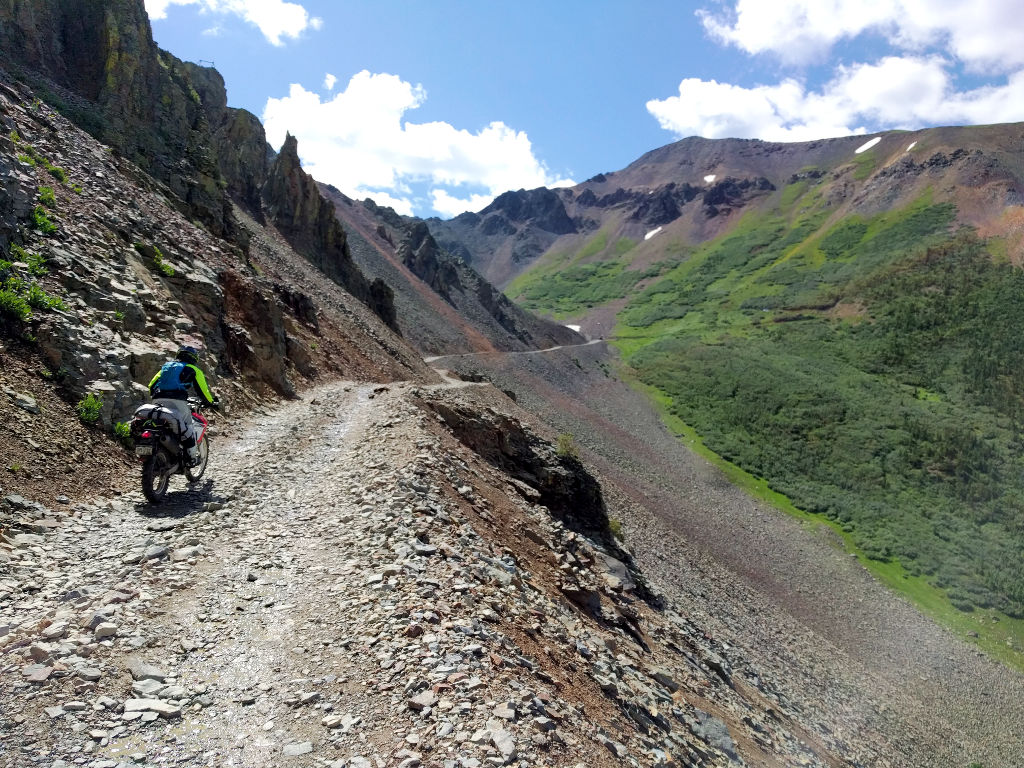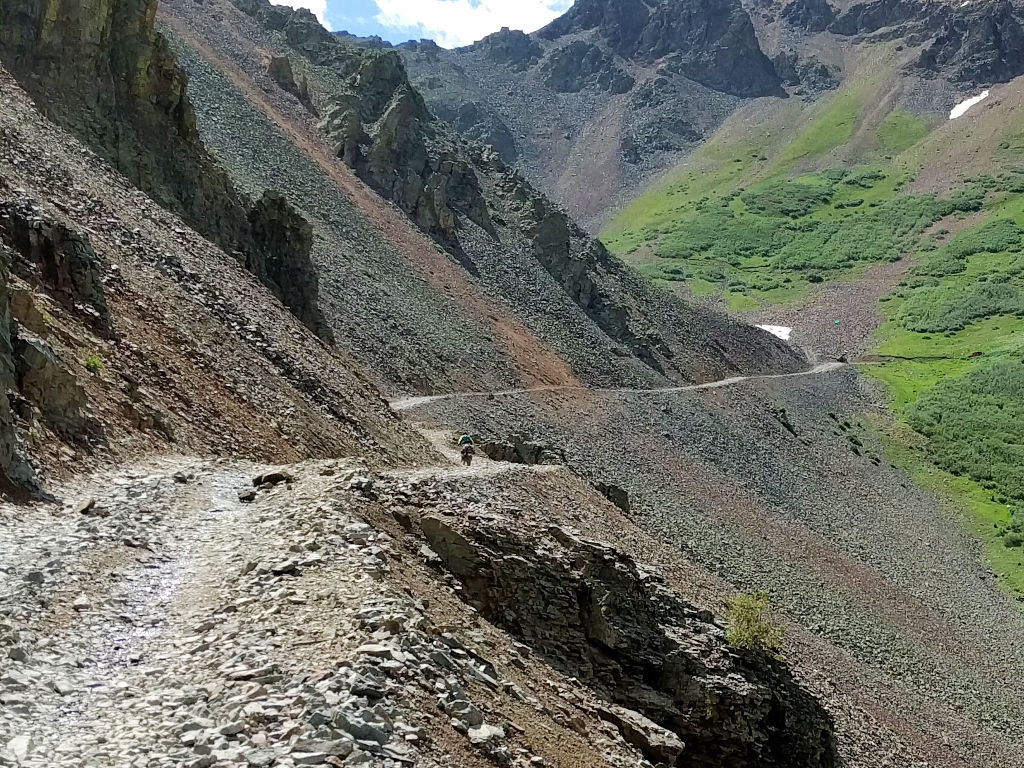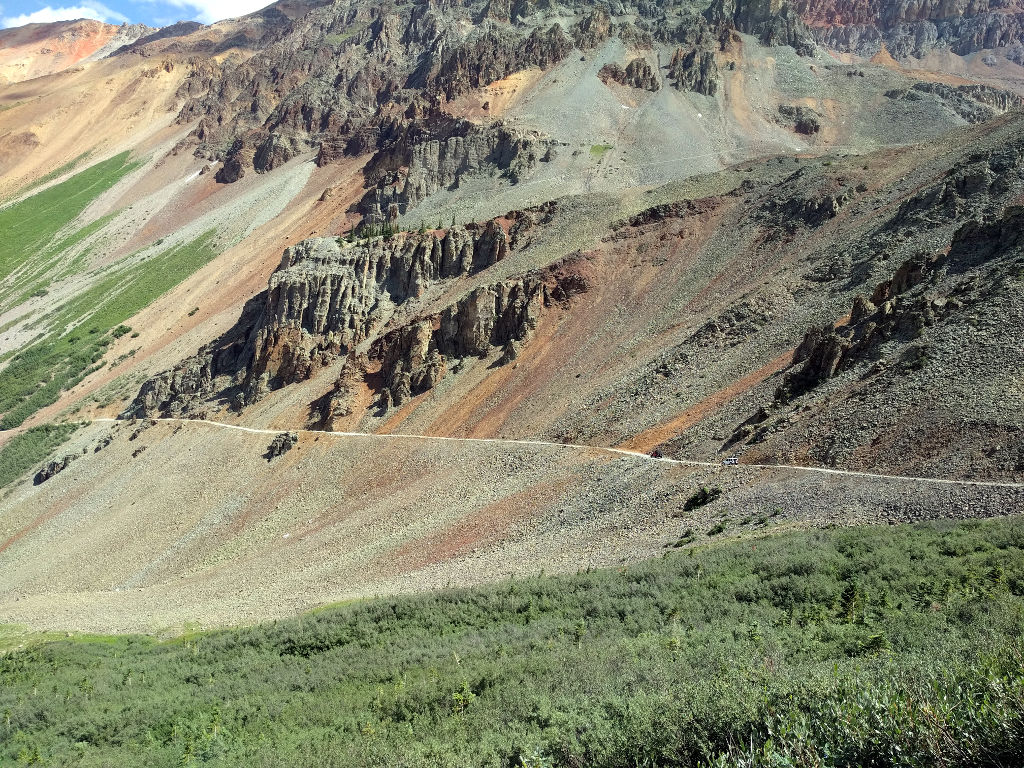 Here's a view of the top of Ophir.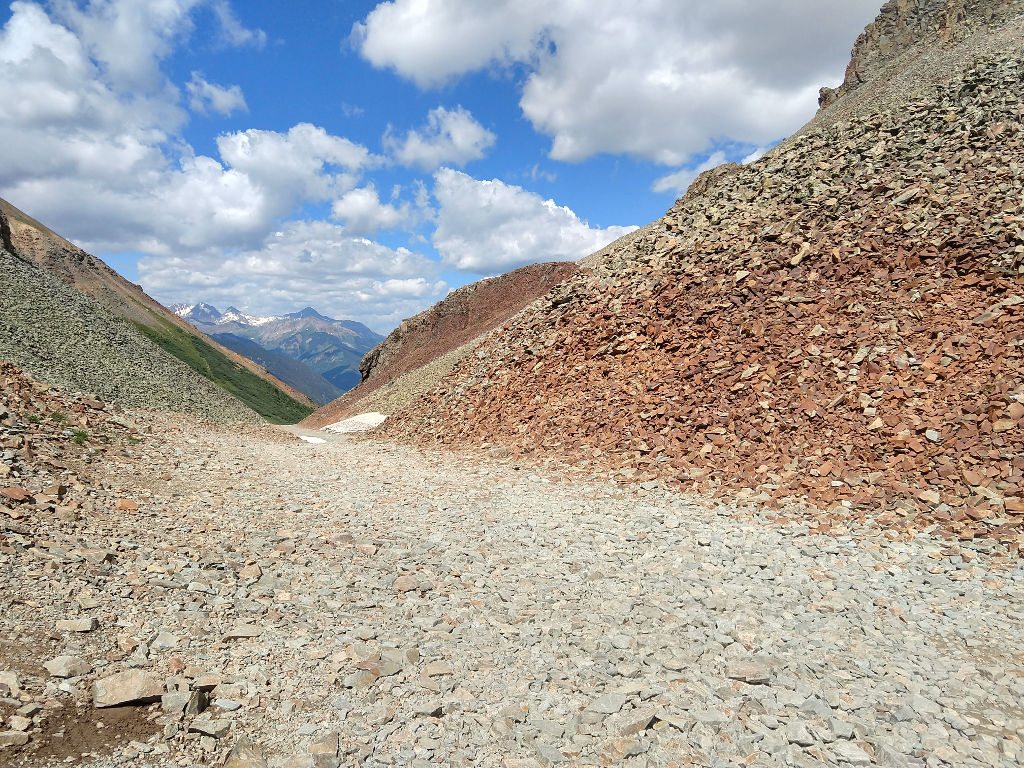 Headed down the other side to 550.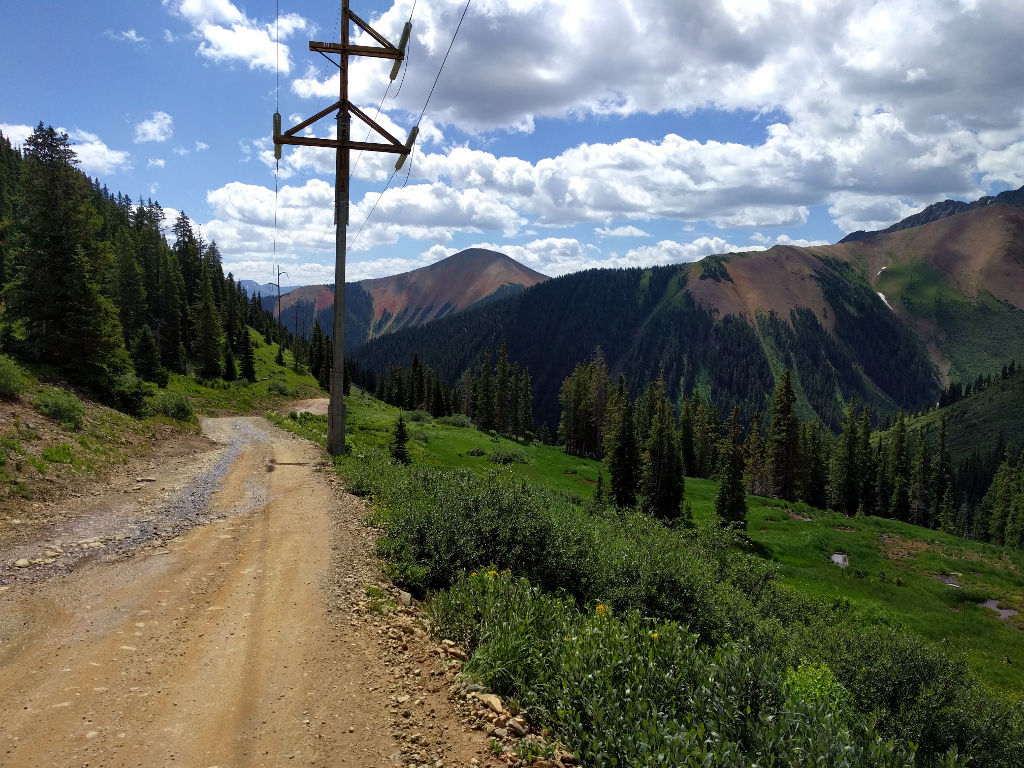 This chute was stupid big. The snow carried enough speed to blast through anything on its way down and shred a bunch of trees on the other side.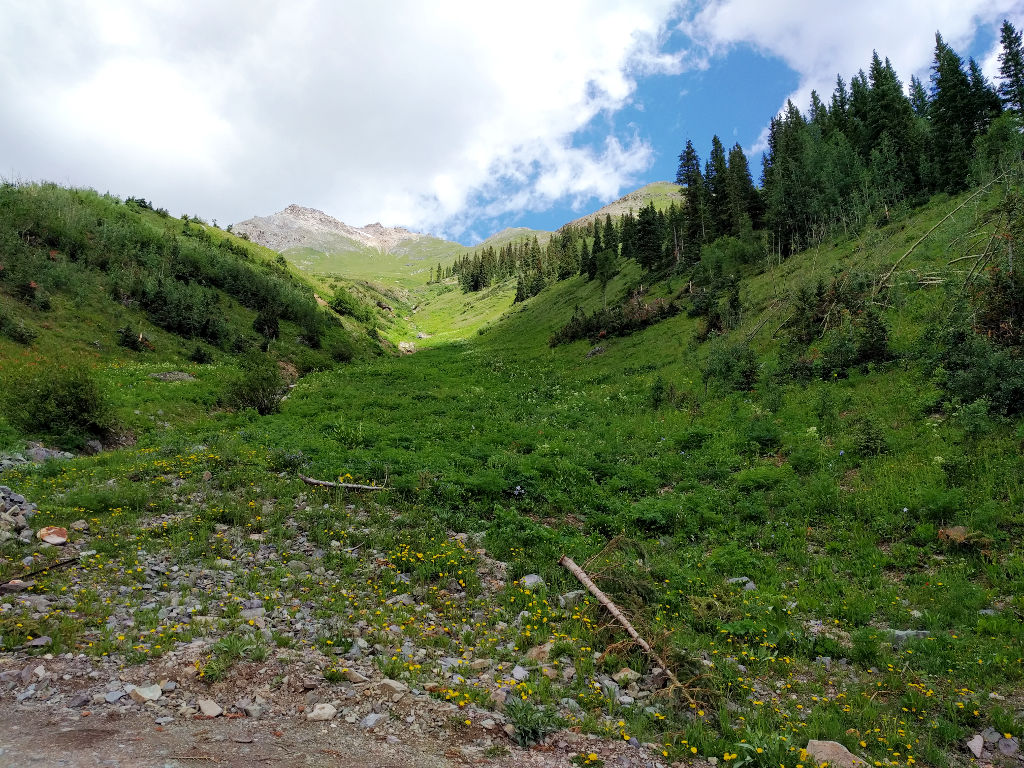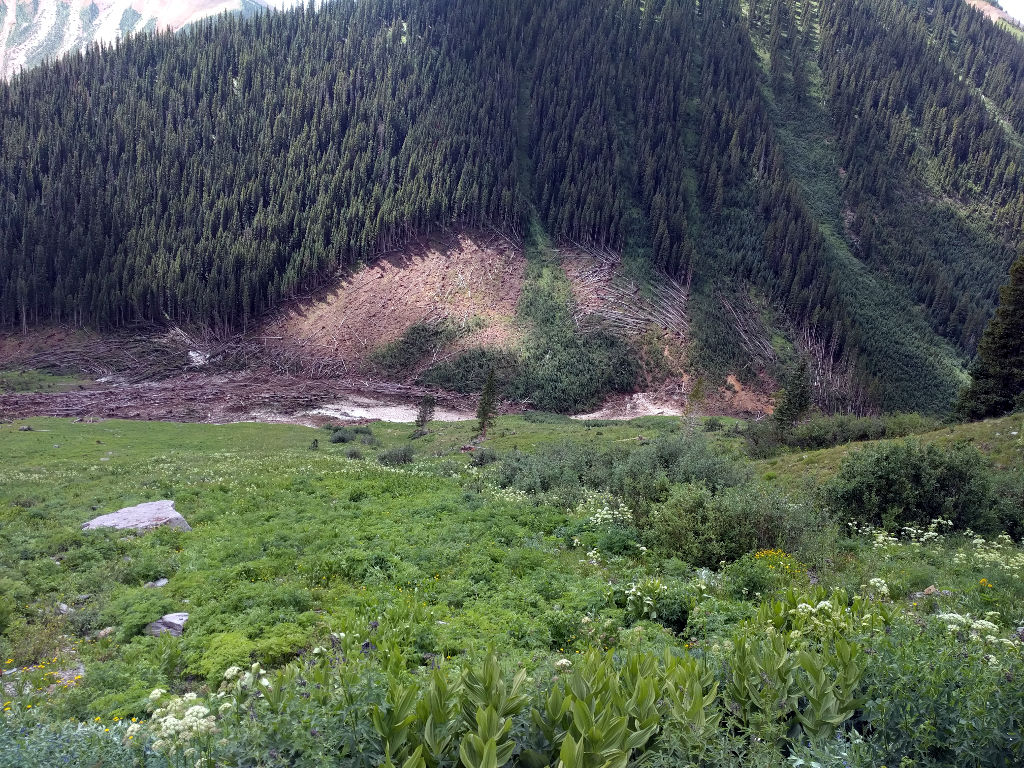 And speaking of shred… (though I don't condone vandalism).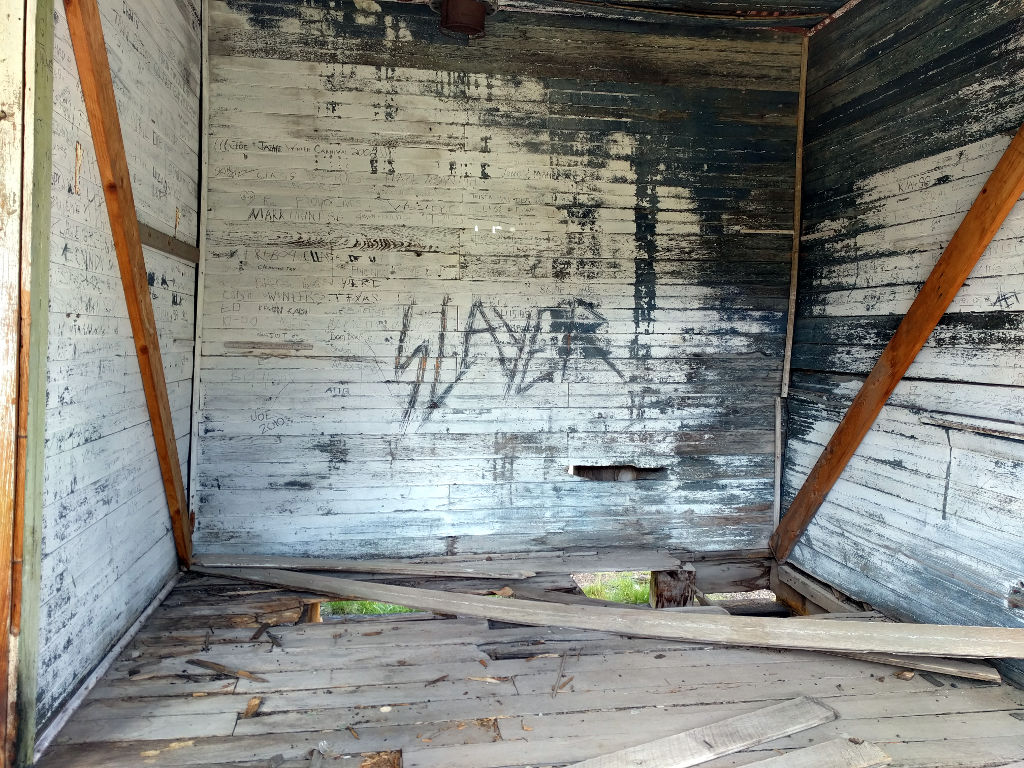 There was a short (in distance) diversion off of 550 through an area rich with mining history. This was really cool, and I'm glad the BDR folks included this on the route.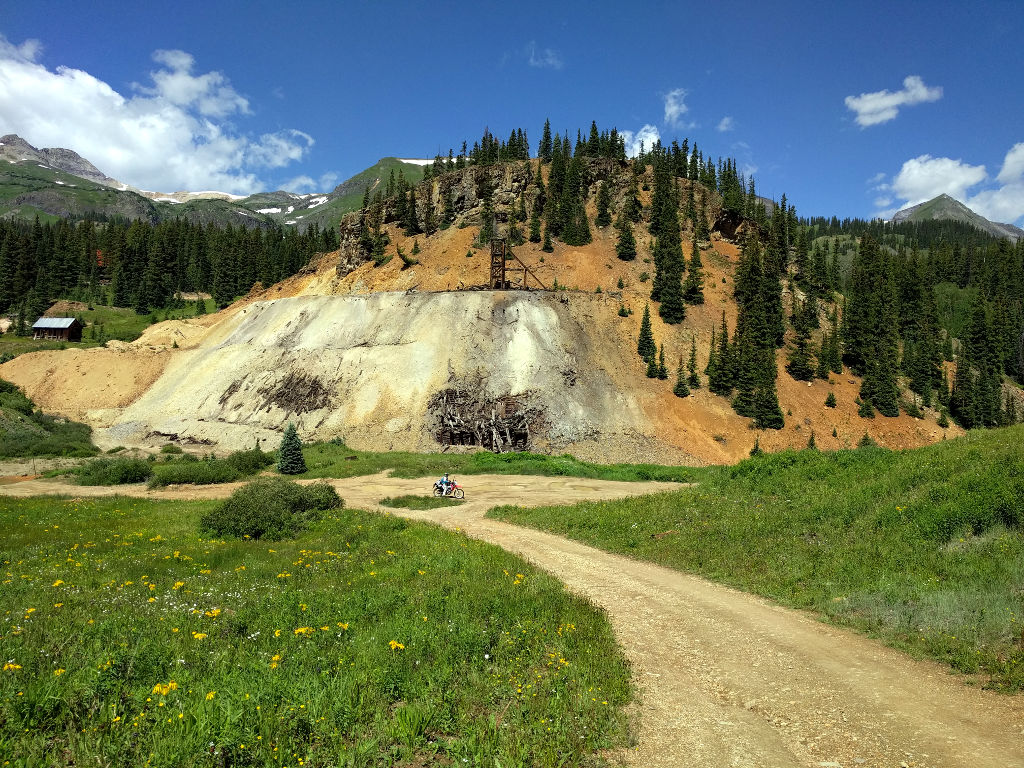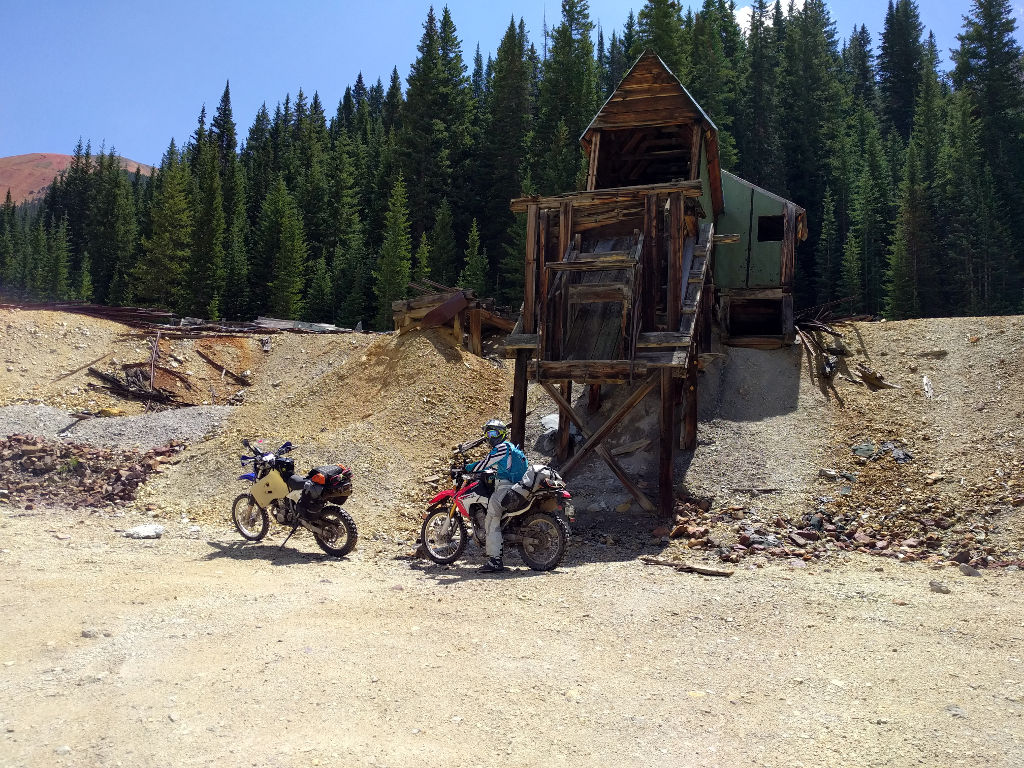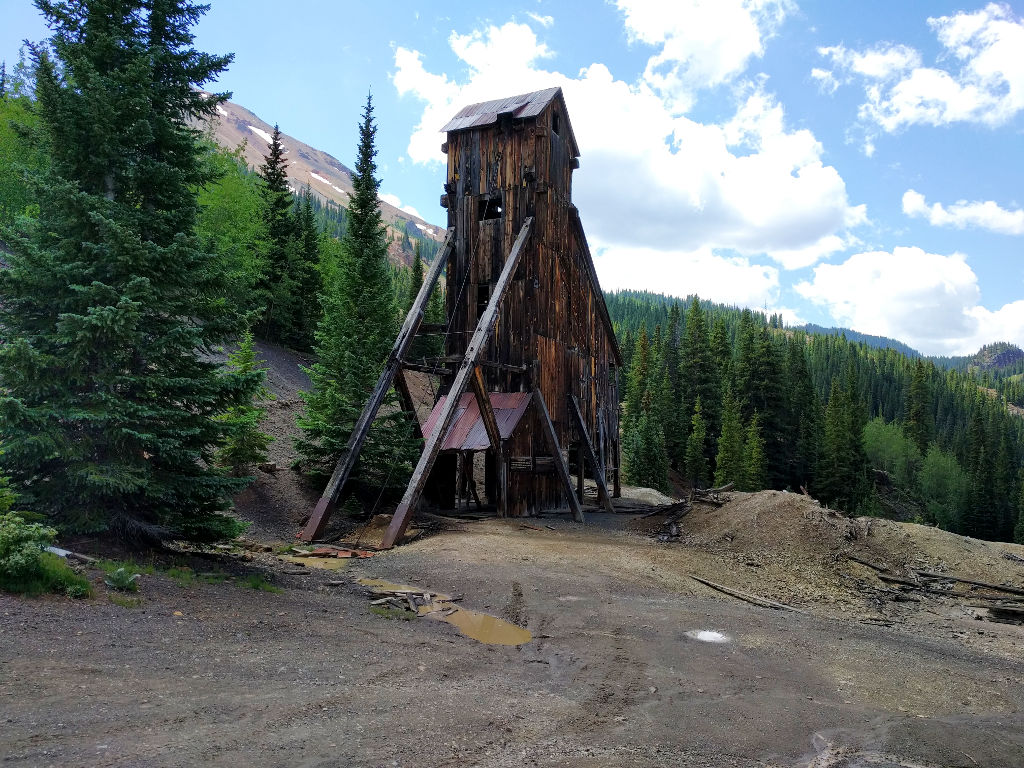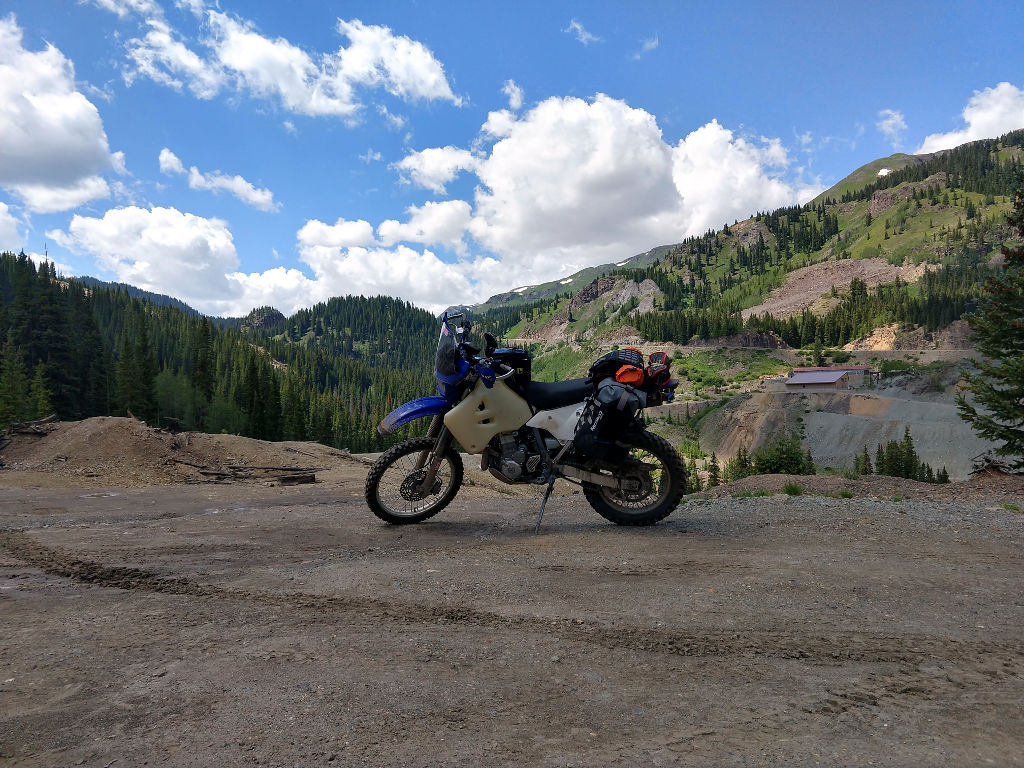 Here's part way up Corkscrew gulch. I wish I got a video of Corinne riding up this part. I guess we'll just have to go back and do it again.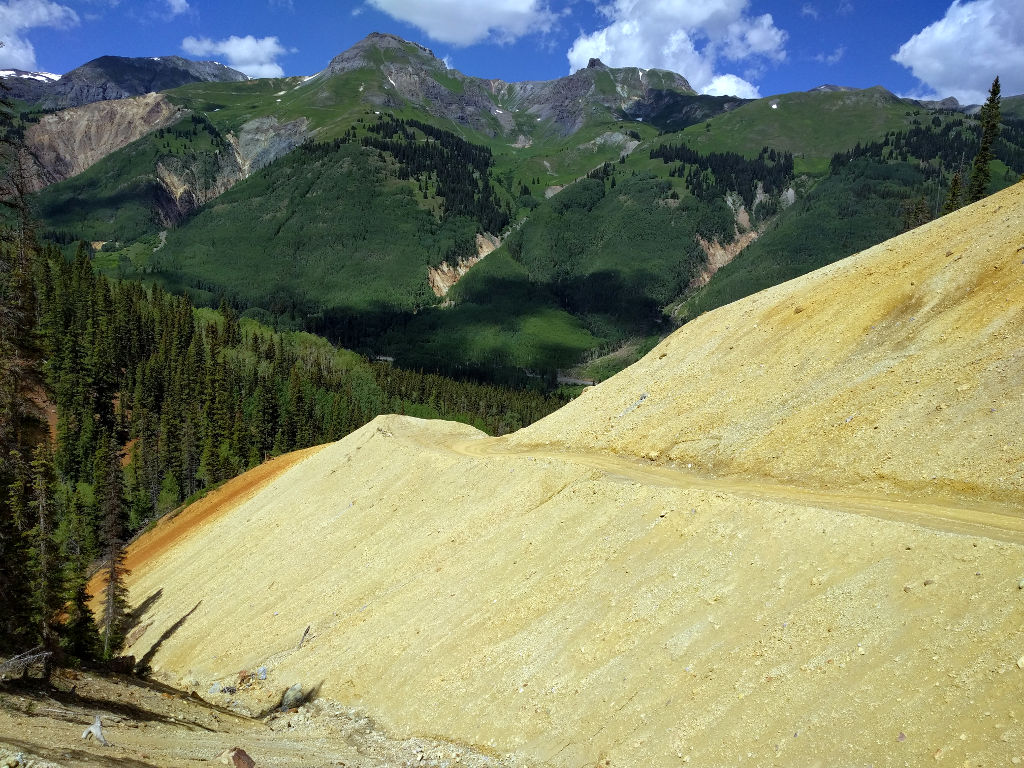 Pretty understandable why many roads in the San Juans opened a month later than usual.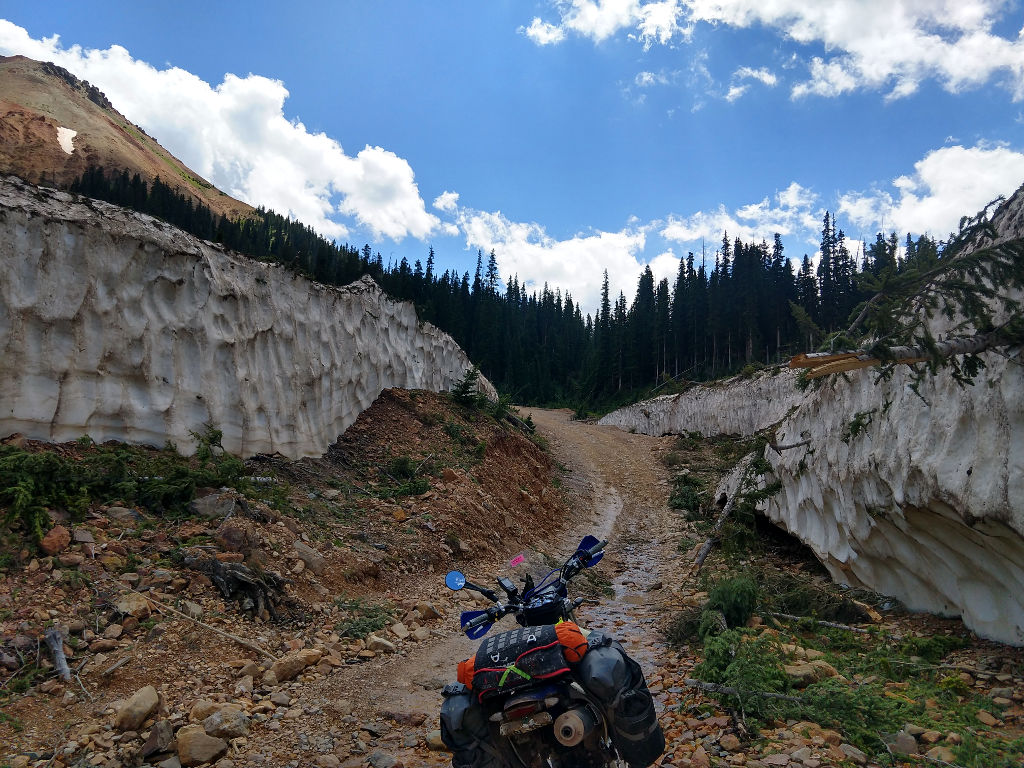 This is the main bit of Corkscrew pass. You can see Corinne near the center of the photo.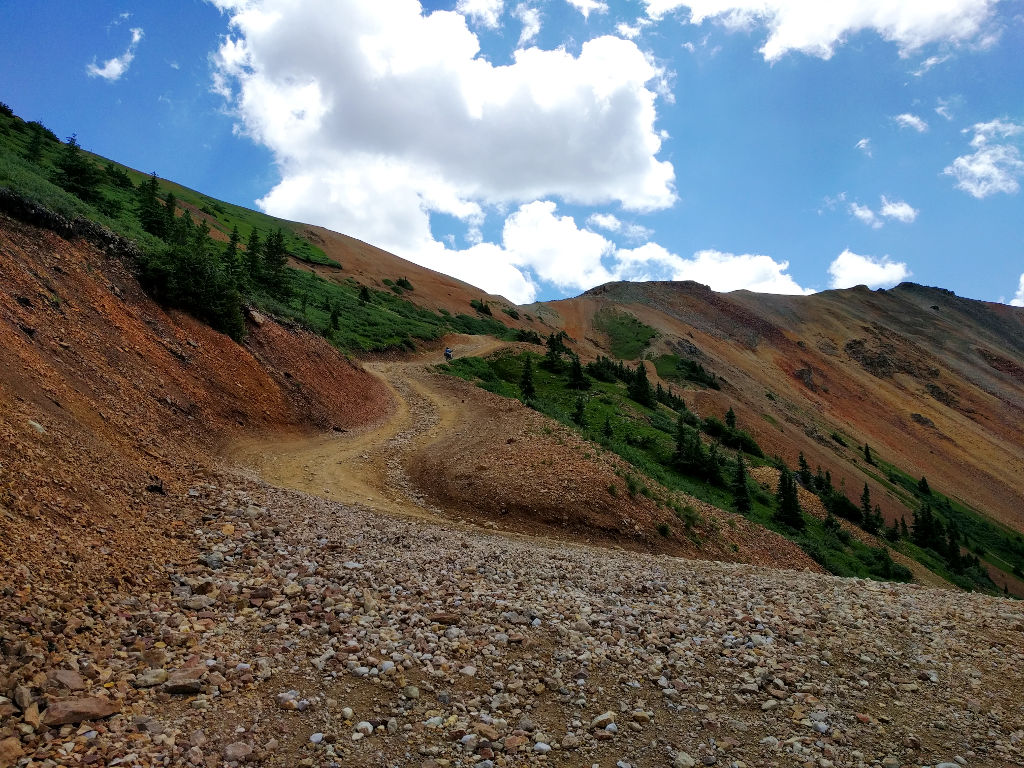 These next two pictures were taken a bit above the pass itself. Corinne is the little dot on the "landing" of the pass.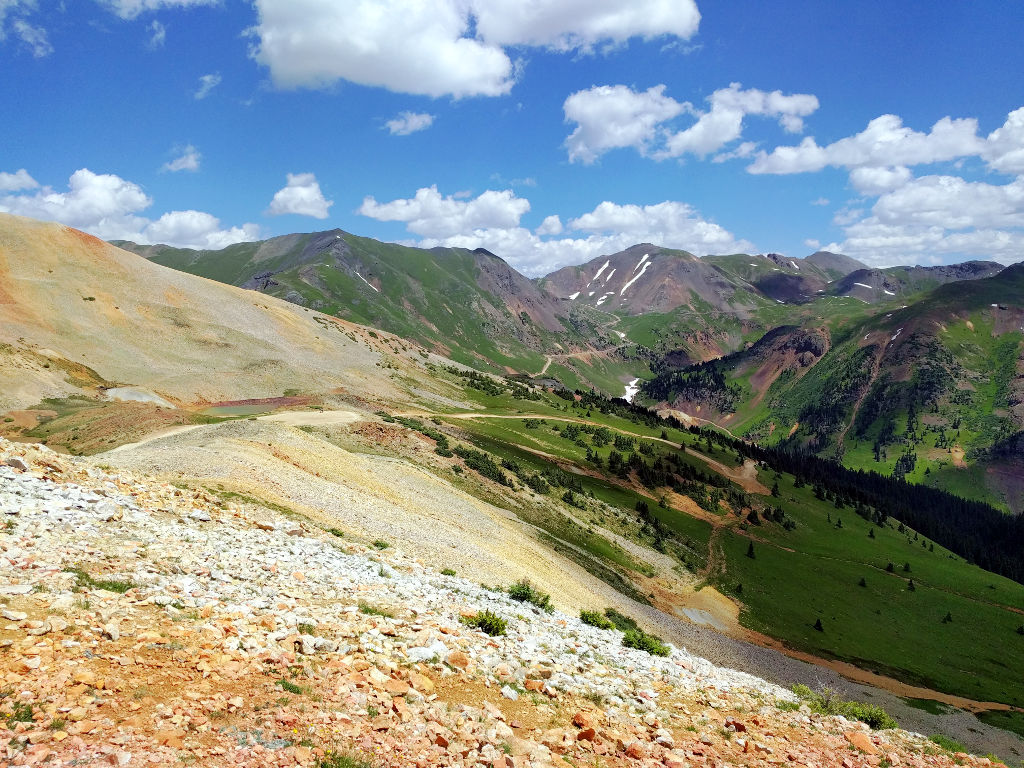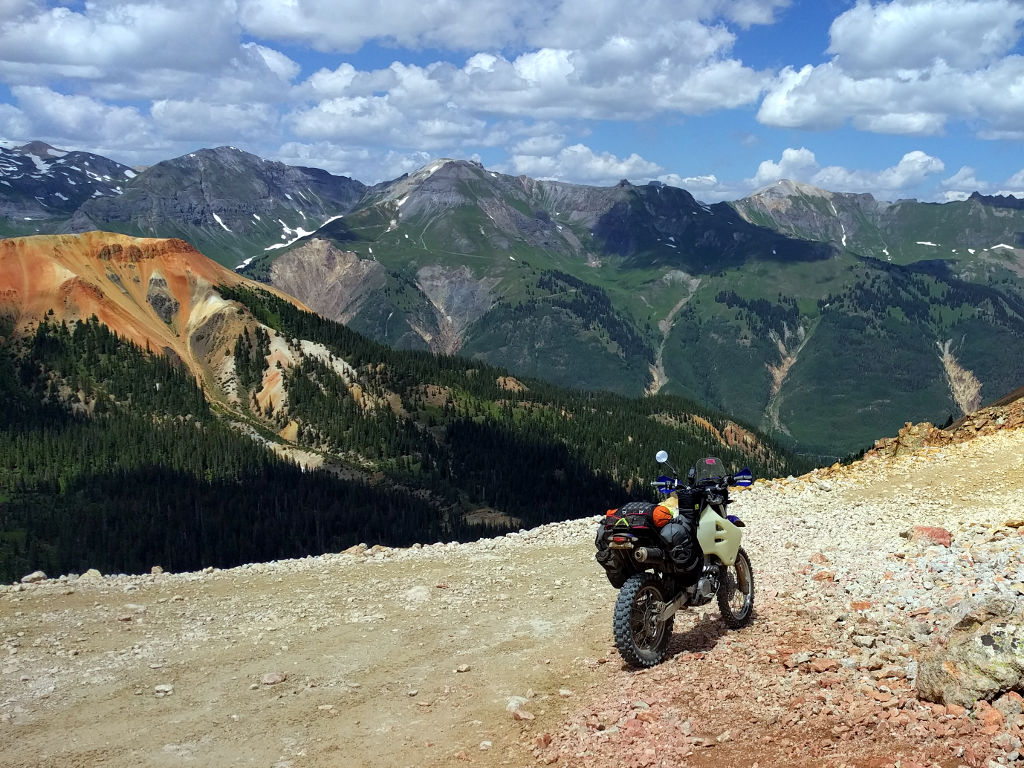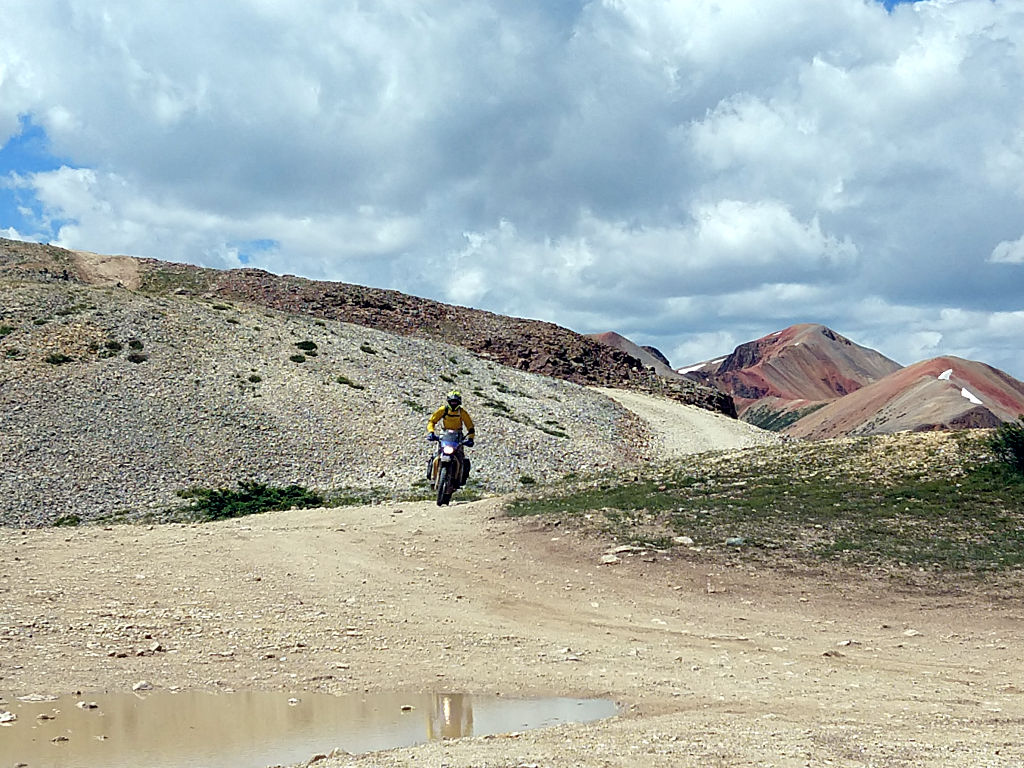 We took a quick break on top of Corkscrew, and then headed along the track to Hurricane pass.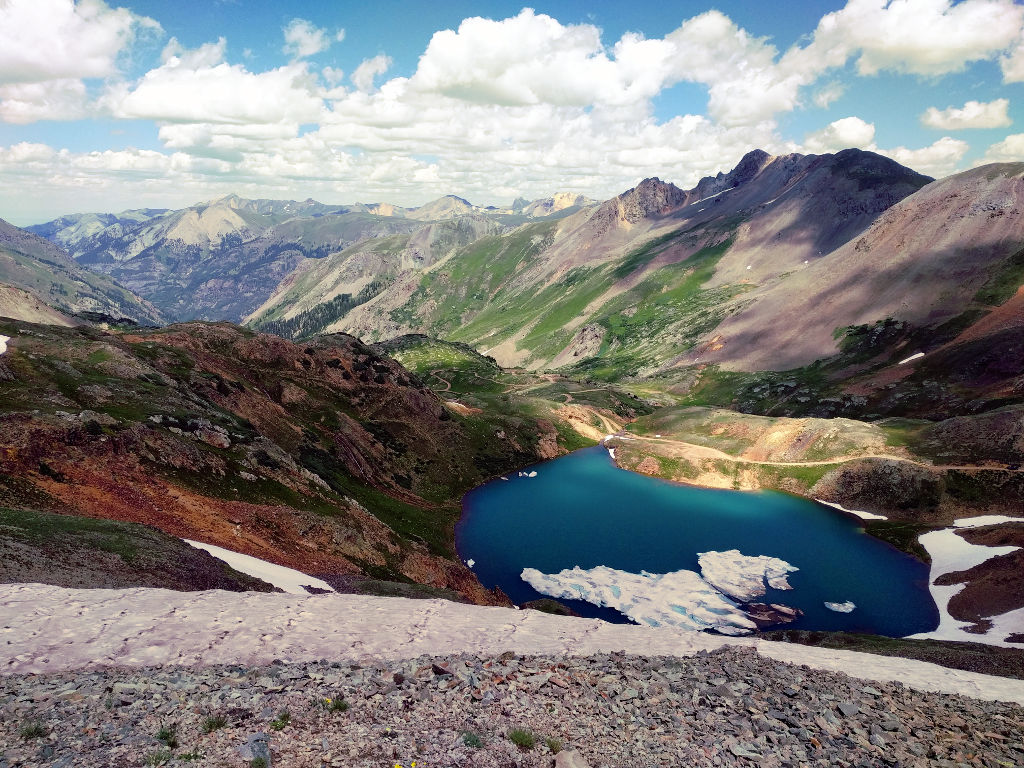 Here's that same lake from California pass.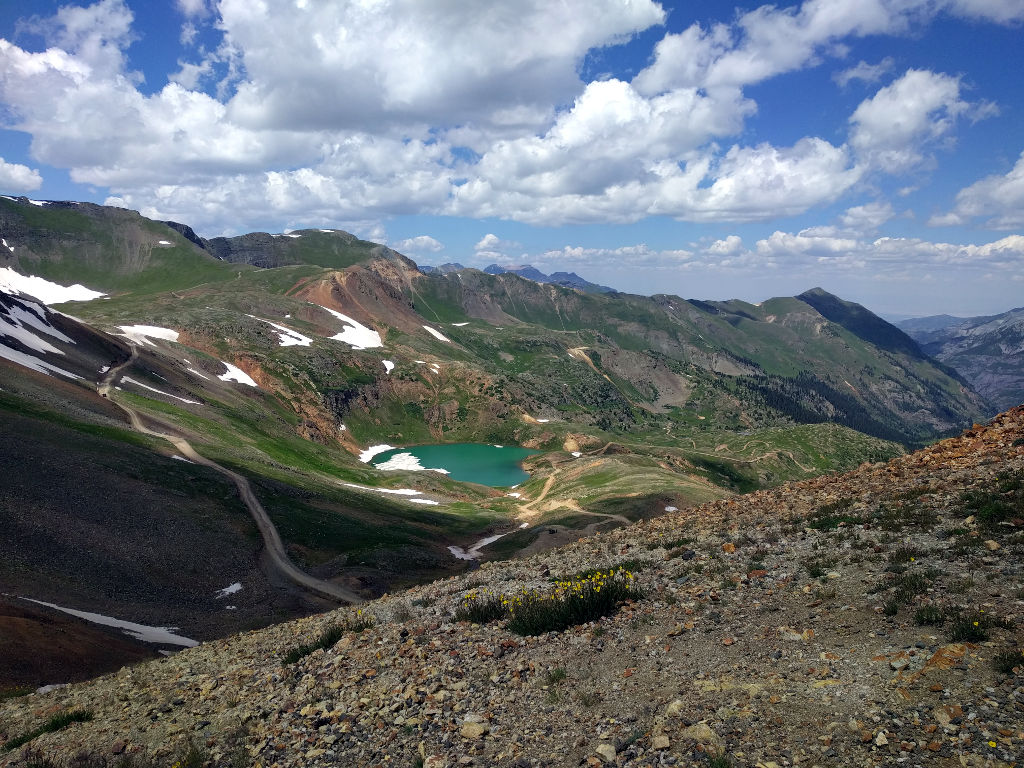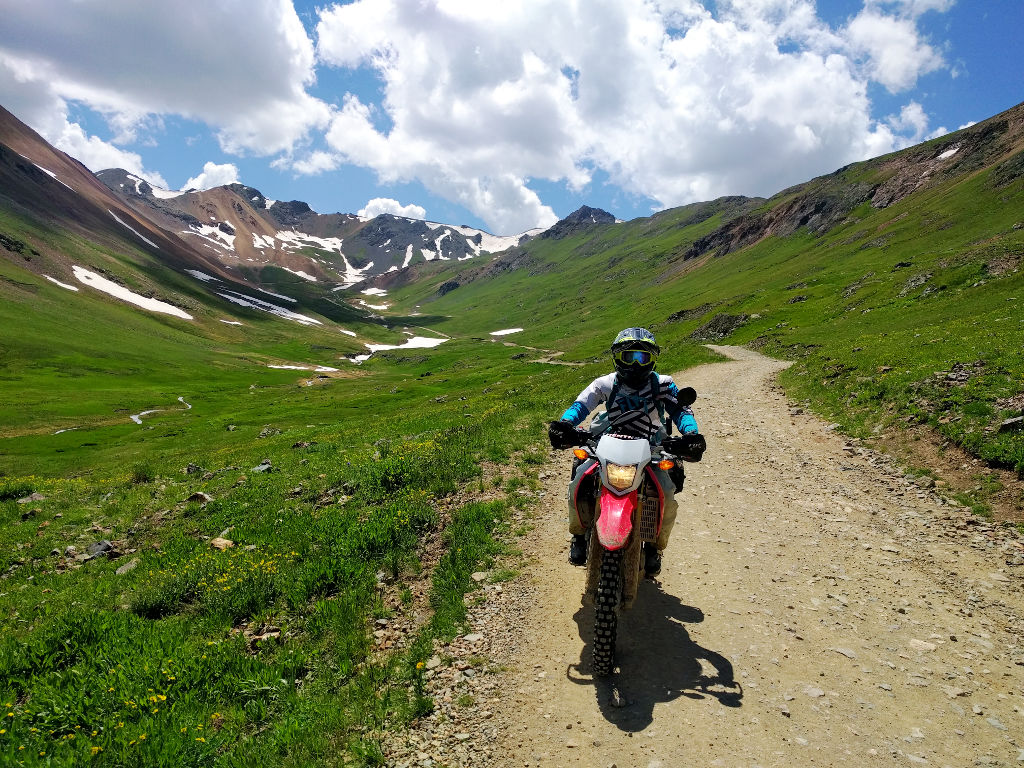 On the East side of Animas Forks. A few days before we started our ride, we got wear that Cinnamon (the usual COBDR route) was closed due to a couple land slides on the East side.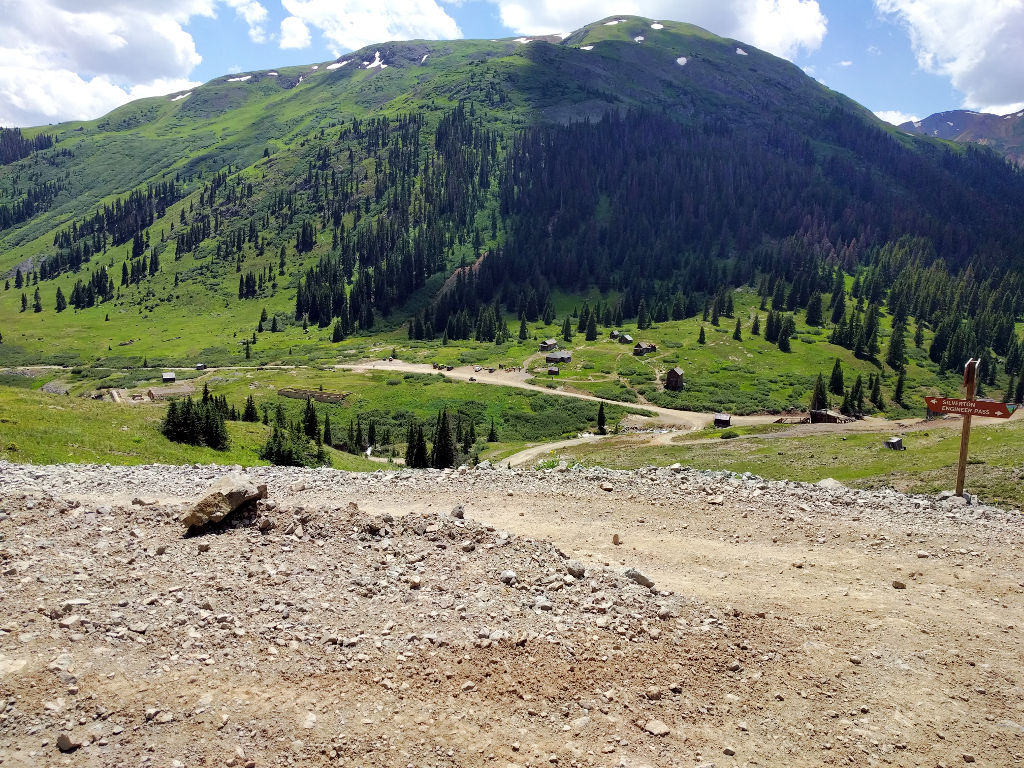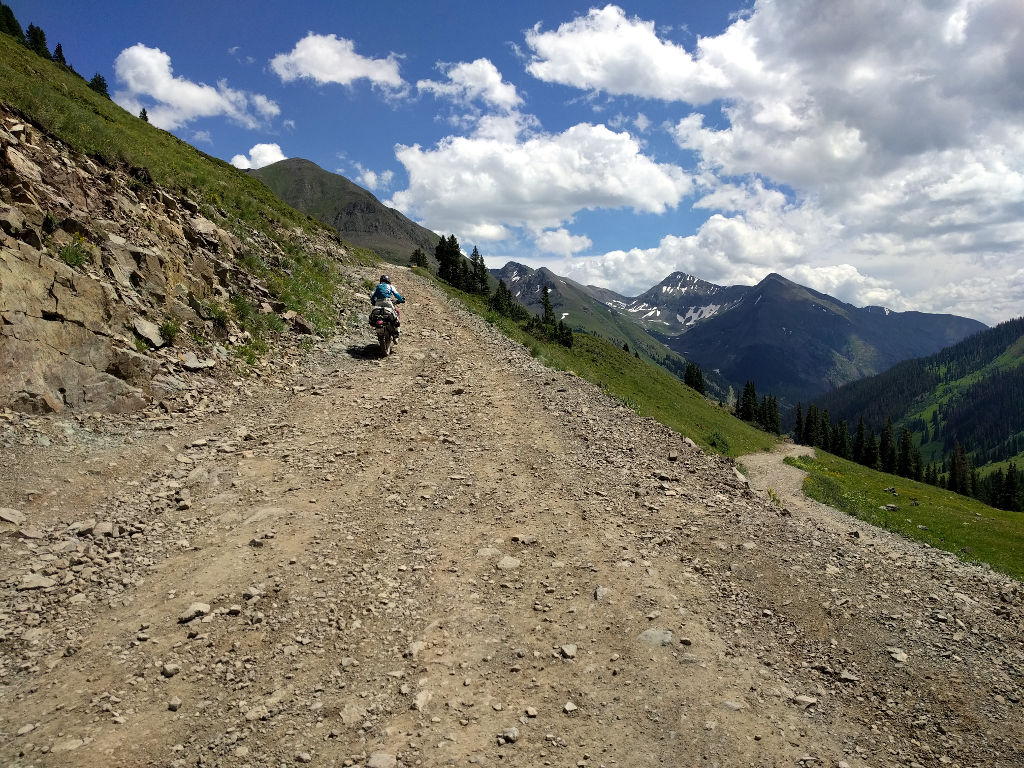 We rode up the West side to the pass itself. We didn't see any road closed signage at the top, but we figured we'd play it safe and take Engineer to Lake City.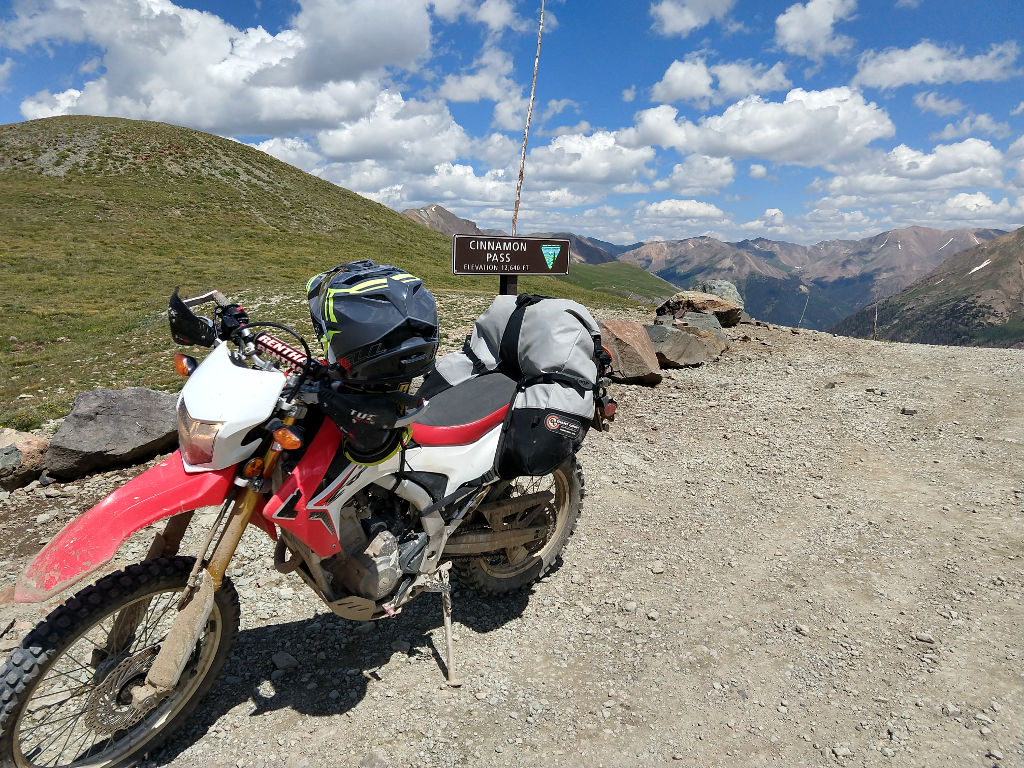 Somewhere near the beginning of the Animas Forks side of Engineer.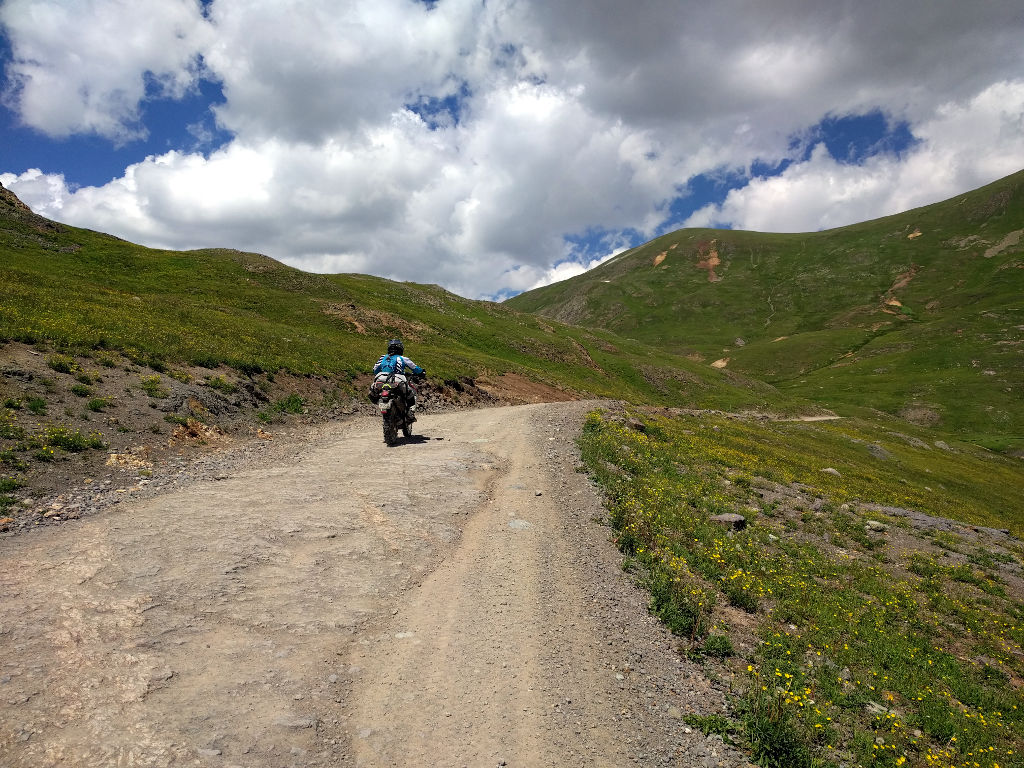 Now we're starting to regain some elevation. The road hooks right, does a couple switch backs, and can be seen a bit below the ridgeline.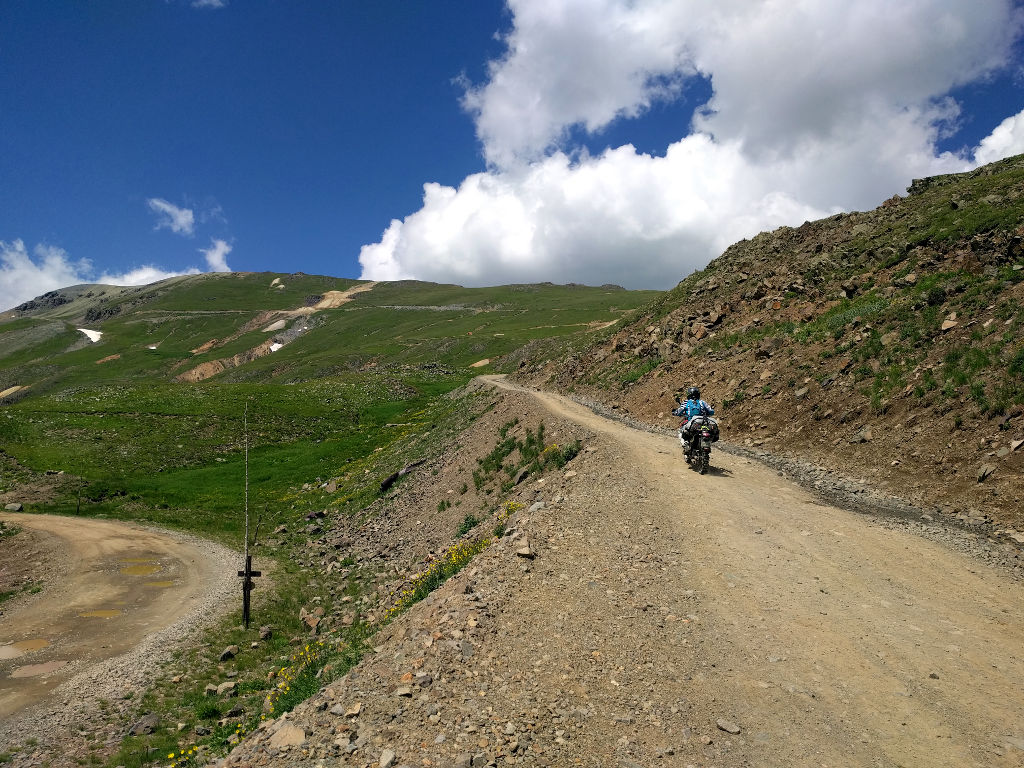 The section Corinne is headed up right here was surprisingly steep.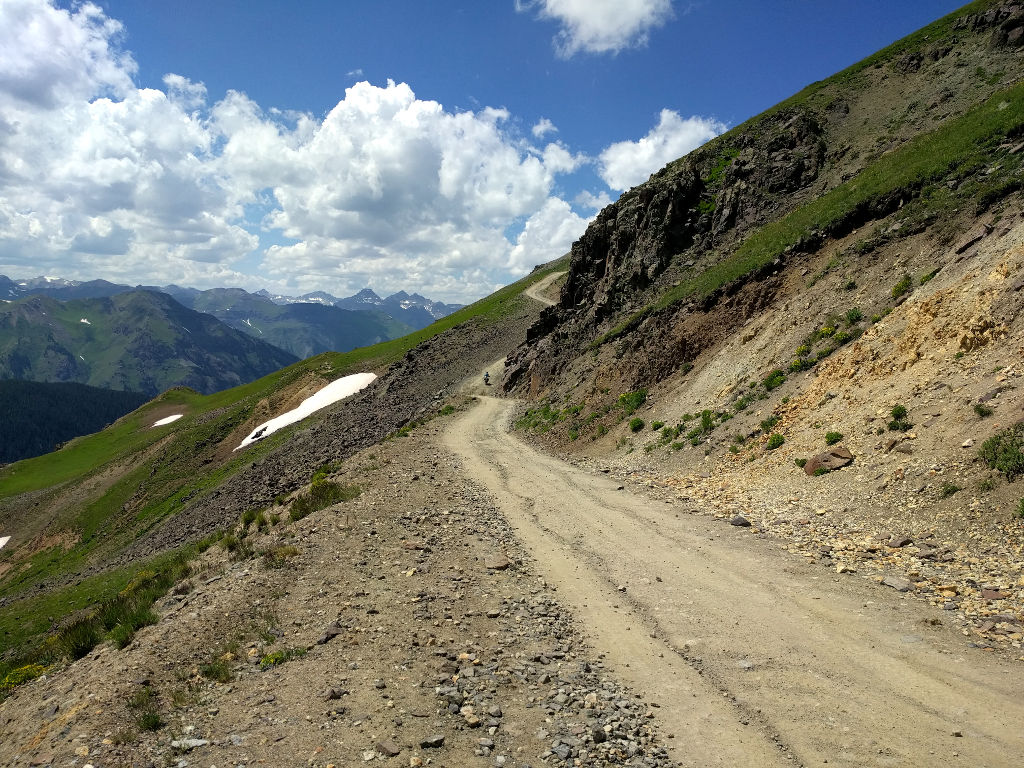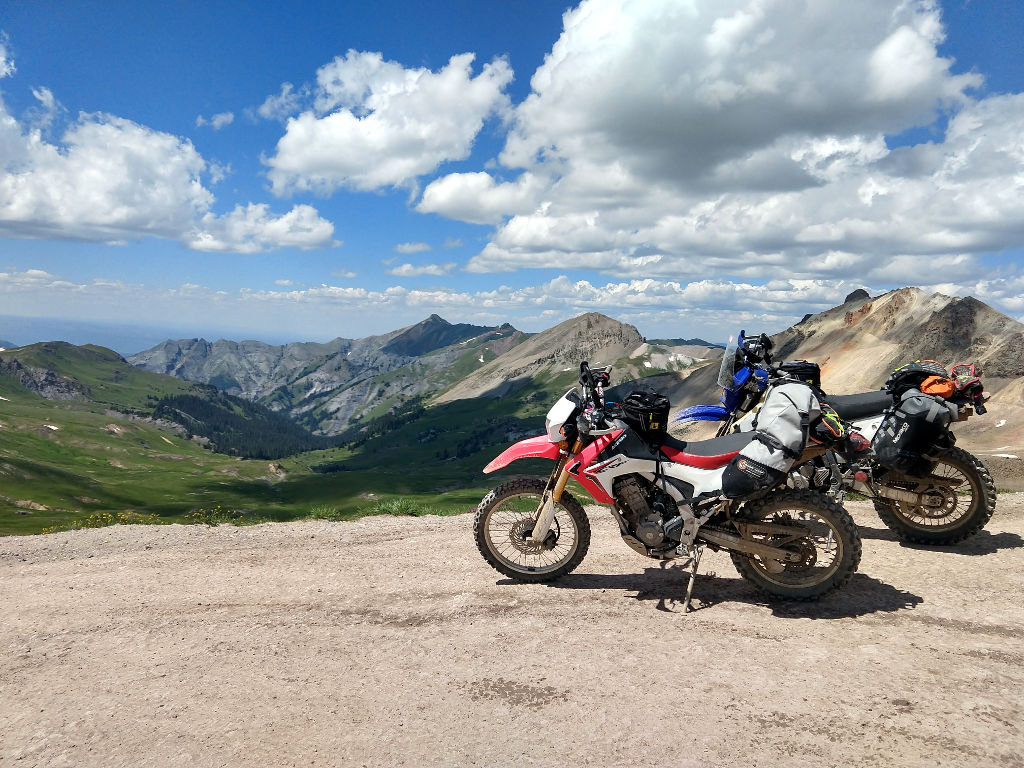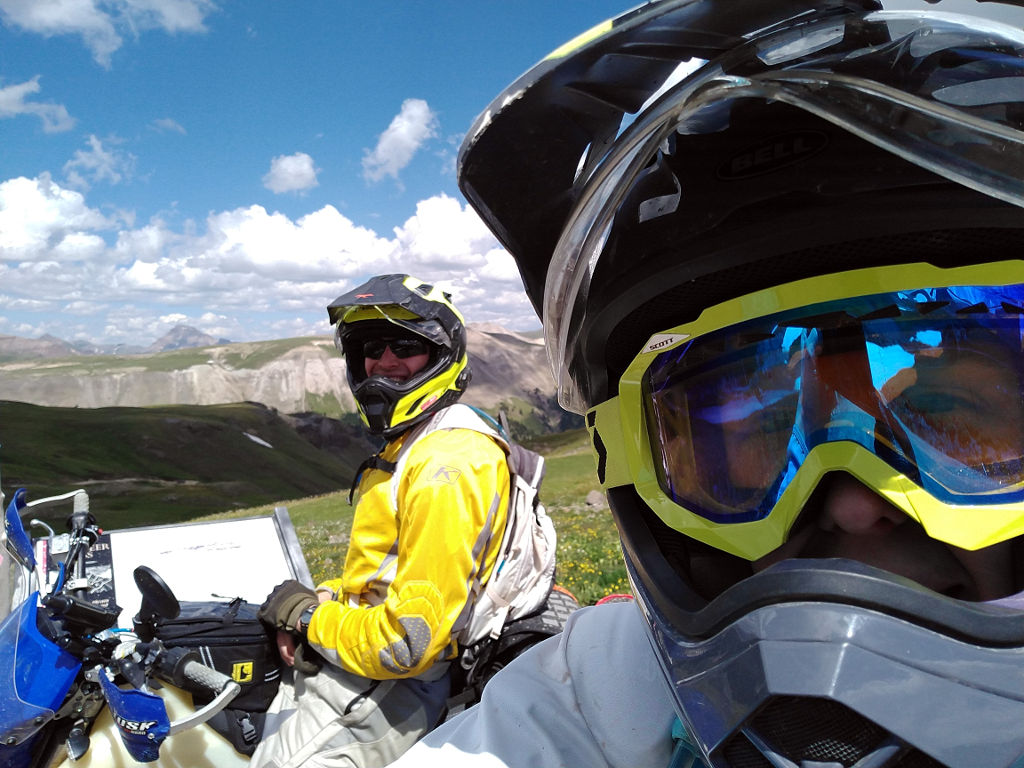 We stopped here coming down the East side of Engineer to look at this huge avalanche chute. Many of the trees are still standing but were snapped in half by the force of the avalanche coming over the cliff above. Completely nuts.
We chatted with a complete maniac bikepacker on a gravel bike who was coming from Gunnison and headed to Silverton all in one day. He had done Buena Vista to Gunnison the day before, and I think he was planning on doing Silverton to Telluride the next day. He was staying at hostels or with friends and traveling much lighter than we were. He had lots of pizza and beer on his mind.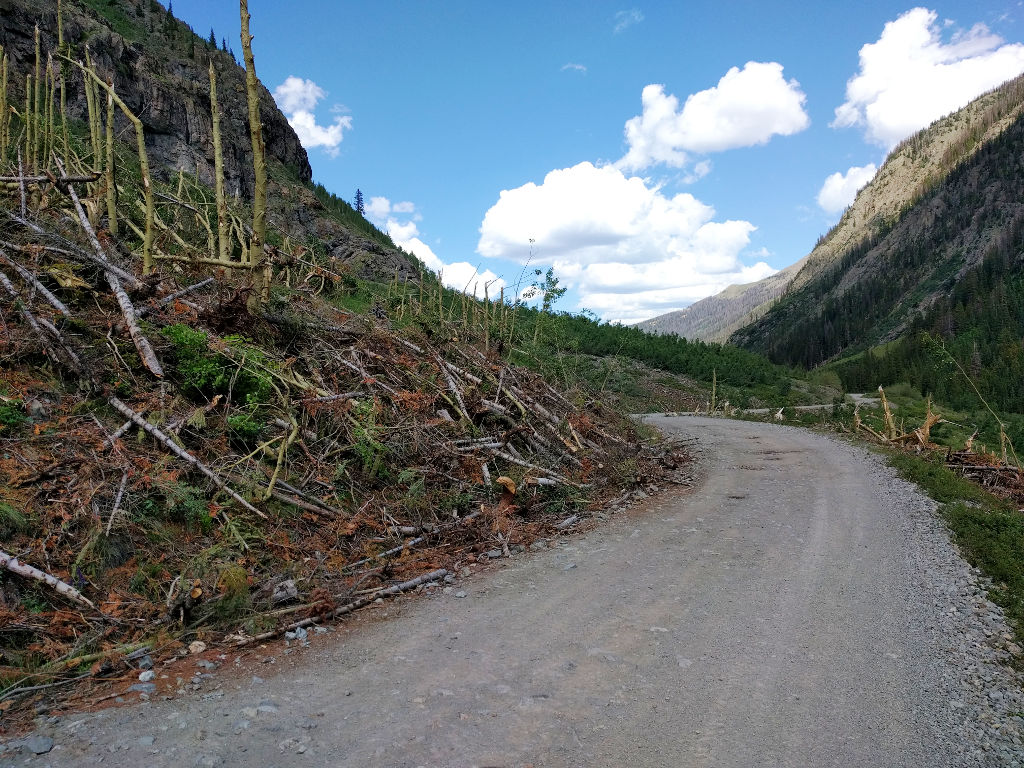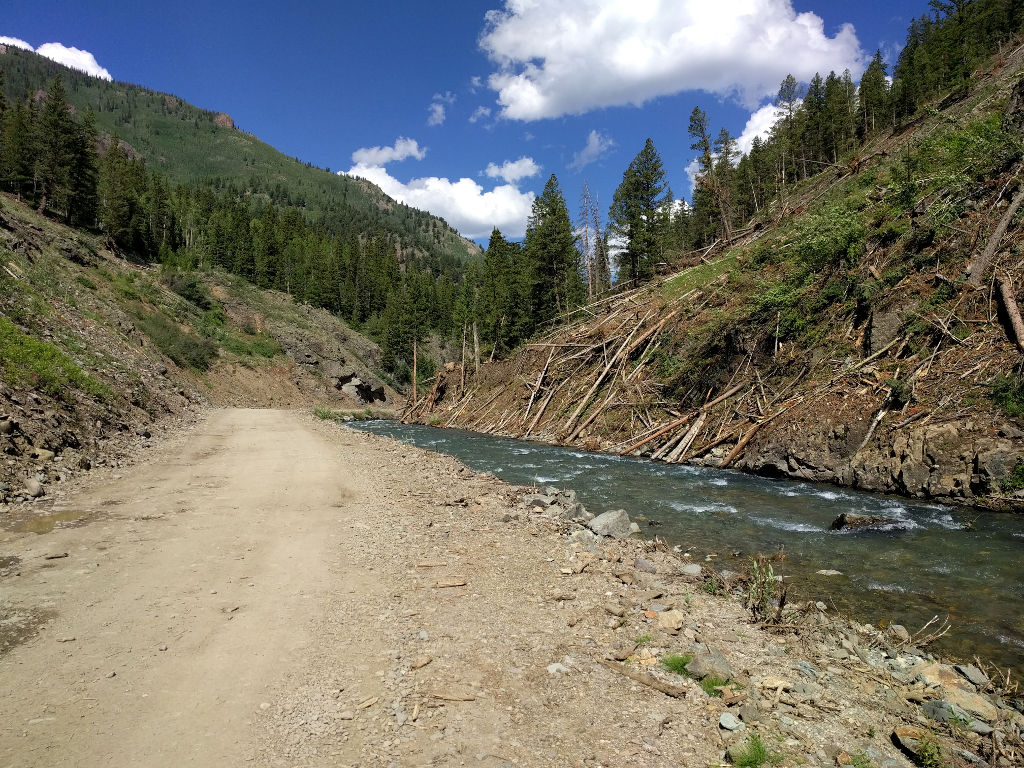 We got some groceries in Lake City and then found a nice campsite on the West side of lake San Cristobal. Rice sides, a smoked sausage, and Baybel cheese wheels is good eatin'. And best of all, it didn't rain!